5 Things You Didn't Know Your Delivery Business is Missing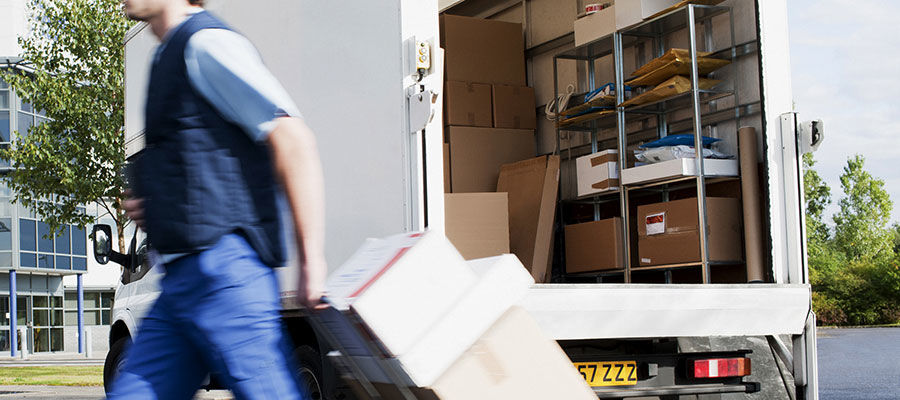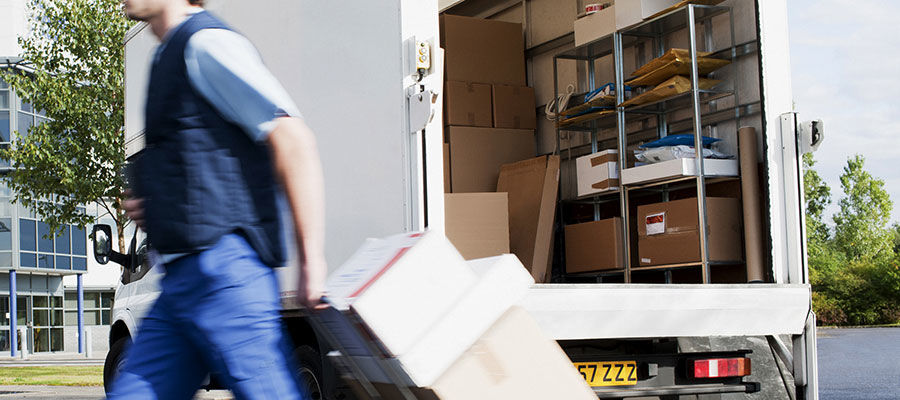 5 Things You Didn't Know Your Delivery Business is Missing 
Share
LinkedIn
Facebook
Email
Copy Link
The delivery business is diverse, so it's difficult to create a one-size-fits-all solution for the industry. Whether you're moving a lot of smaller boxes of flat-packed furniture from one side of town to the other, or you're moving fewer but larger pieces between cities, there are ways to customize your vehicles to serve your business better.
Depending on your business, there's a vehicle type and possibly a fuel type best fit for it.

Work trucks with ramps and shelves can help have both healthier and happier employees.

There are many important aspects of your vehicle to consider when looking for the most effective, efficient delivery vehicle.
1. There is a Delivery Vehicle Spec'd for your Business
We asked some furniture delivery companies a little about their fleets to provide real-life examples and tips for choosing the right delivery truck or van.
Brian Baxter, co-owner of McGann Furniture in Wisconsin, says he uses two vehicles; a three-quarter-ton Ford van for the infrequent deliveries of smaller items and a 14-foot Chevy cube van with a garage door for the majority of his deliveries, which are larger items.
Matthew Downs, manager at Bradley's Furniture in Utah says he likes the newer diesel engine on his Isuzu cab because it's quieter and cleaner to run.
Rick Neill, owner of Neill's Home Store in Missouri has two Isuzu cabs and one Ford box truck. He likes how comfortable the Ford is, but he really likes how sleek and efficient the Isuzu cabs are. Rick says the right full-size cargo van is as comfortable as an SUV or minivan.
Vince Clarkson the owner of Hudson's Appliance buys his vans from a local dealer who then custom upfits them for him. He says when buying, it's nice to talk to knowledgeable people who can ultimately provide him the custom vehicle he wants. Vince has one Chevy box van and one Ford box van. These vehicles handle his small and large deliveries well, and he's working to find a dealer who can provide him a similar medium-sized custom upfit van for his mid-sized deliveries.
Clarkson does what a lot of business owners do—trust the local dealer. The classic image of a pushy car salesman is nothing like a real commercial dealer, and building a good relationship with your local dealership can make your life a lot easier. A good dealer has a wealth of knowledge about all of the vehicles on the lot, what's available in their trade network, customization options, accessories and much more. When you describe your job and your needs, they should have the solutions available.
2. There May be an Ideal Fuel Type for your Fleet
Not sure if you need a diesel- or gas-powered engine? Choosing a van that is fuel-efficient is very important for not only the environment but for your business success as well.
"The key is choosing a vehicle that gives you the best mileage for your money depending on its fuel efficiency, vehicle weight, engine type, and driving conditions."
Yes, a diesel engine requires less fuel to generate the same power as a gas engine (due to higher energy density). However, it also comes with a higher upfront cost of about 25%. This means you should be driving at least 30,000 miles each year to recover this extra cost and save even more based on fuel economy.
A gasoline-powered engine is the better option if you are driving less than 30,000 miles each year. Also, consider that diesel isn't available at every gas station. If the gas stations near you don't provide diesel, it could create an extra trip every time you need to fuel up, costing you time and money.
3. Customizing your Delivery Truck can Save Pain… Literally
There can be a lot to consider when customizing a vehicle, but it can save you and your employees from personal wear and tear. Simple add-on items like ramps will prevent your team from needing to lift things at shoulder height. Liftgates that install onto the rear of your vehicle and hydraulically or electrically raise or lower your loads can accommodate even heavier cargo.
Improve employee efficiency and decrease task time by adding customization like a cab access door or side steps. Add-on features such as shelving, or attic space allow for a well-organized vehicle so your employees can find their tools and supplies faster.
Another big customization decision is whether you want an aluminum or steel interior. Although aluminum is lower in mass, most truck owners will tell you there is a relatively small performance difference between the two. You will end up paying about two to three times higher per kilogram for aluminum versus steel because of the higher material cost. Make sure to work that into your overall truck purchase budget if you decide to go with an aluminum interior.
4. Happy Employees Can Lead to a Happy Business
Don't sacrifice comfort and ride quality for your drivers. You will be surprised that not all cabs include cruise control, AC/heating, and a stereo system as standard features. These are all small features that go a long way in making your team happy.
Brian from McGann Furniture emphasizes the importance of keeping his employees happy and treating them like family. He makes sure to take into account the needs and desires of his delivery teams when choosing vehicles. This has resulted in low turnover and a high quality of work which makes for a quality business and happy customers. Brian has created such a positive work environment that he has one employee, who he calls his right-hand man, who has been with him for 25 years. Another of his employees has stayed on with him for 12 years.
The key takeaway from this is that happy, involved employees will do higher-quality work and stay with you longer, helping you build a better business.
5. Your Business may Have Inefficiencies
Have your deliveries for the day mapped out in the morning and educate your delivery teams to use mobile applications like Google Maps and Waze to map out each stop of the day in a logical, efficient, time-sensitive fashion. The team can then manage any changes to the schedule in real-time utilizing these apps.
Taking this a step further, many businesses have a fleet of at least two vehicles. This allows the business to designate one truck team to spend the morning loading for farther destinations while the other truck team is handling your local deliveries.
Another important factor to consider when choosing a vehicle for your work needs is its gross vehicle weight rating (GVWR). This is the maximum amount of weight/mass capacity specified by the manufacturer which includes the vehicle's chassis, body, engine, engine fluids, fuel, accessories, driver, passengers, and cargo.
If your goal is to accommodate more cargo by putting a larger body on a chassis that isn't GVWR compatible, you will exceed your weight limit before you fill the cargo bay, leading to an inefficient and repair-prone vehicle.
Published on: August 16, 2019