Ask an Arborist: Fleet Vehicle Types, GPS & Storage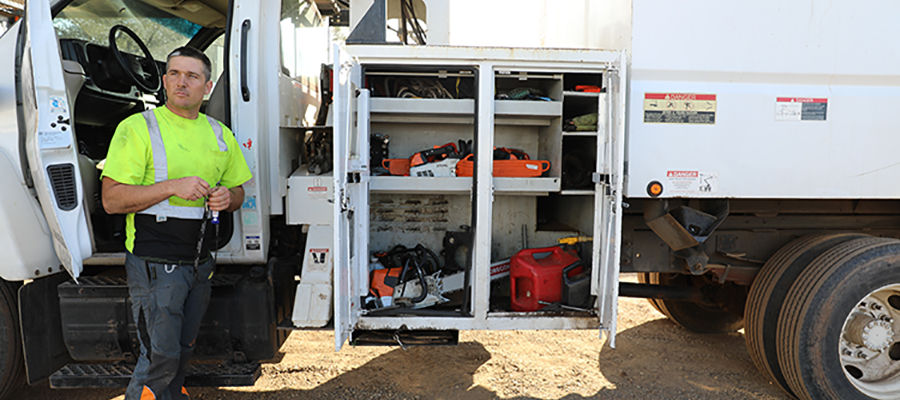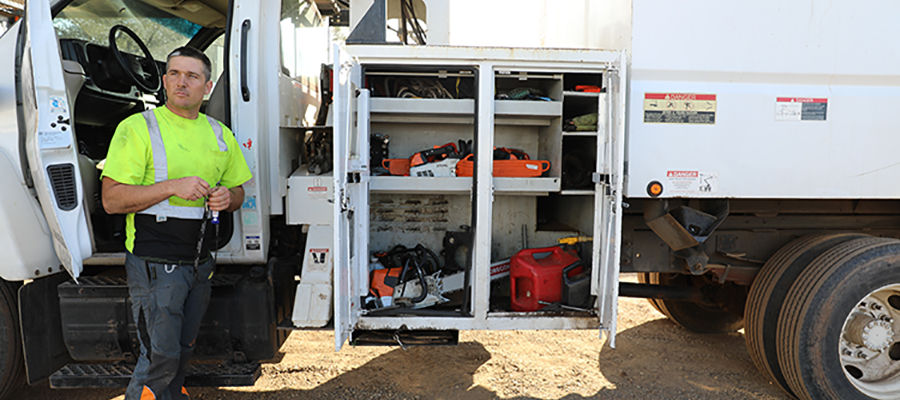 Ask an Arborist: Fleet Vehicle Types, GPS & Storage
Share
LinkedIn
Facebook
Email
Copy Link
We interviewed Arborist Jason Throop of M&S Wesley Tree Service about the best trucks for his tree trimming business, tool, and gear storage, how he researches work trucks, fuel preference, and GPS tracking for his fleet of work trucks.
Jason chooses Ford, GMC, and Freightliner as the best trucks for his business

Adequate tool and gear storage is essential for a tree trimming service work truck

Online research is the key to purchasing work trucks for the fleet

Diesel is the best fuel type for taking heavy loads uphill

GPS tracking keeps the crew on task
Q: What are the best arborist trucks for your tree trimming business 
A: We have work trucks for tree trimming and pest management. For tree trimming and removal we have a GMC C7500 Terex 55ft forestry chipper boom truck, a Ford L9000 crane truck and a Freightliner with a log trailer. We have a Ford F450 service body for the pest management side of the business.
Q: Is there enough tool and gear storage in your work trucks? 
A: Our forestry body work truck has a lot of storage for our tools, gear and road signs. Forestry bodies come in different storage configurations so you are able to get the type of storage you need. We had a Ford F450 forestry body truck that was a little bit better for us because the storage boxes went all the way through the body so we had more storage for gear. Our Ford F450 utility truck has storage compartments for storing our extra gear and pest management equipment.
Q: How do you do your research for purchasing your next work truck for your business?
A: We do most of our research online. We look at reviews and follow a lot of tree industry groups on Facebook to see what work trucks and gear tree trimming services are buying, what they like and don't like. We have purchased both new and used work trucks. Purchasing new is nice because we can configure the truck to be exactly what we need. Used is a good option because they are significantly less expensive. It just depends on what we need at the time and what works best for our budget.
Q: Do you prefer gas or diesel work trucks?
A: I really don't recommend a gas motor if you have to go up hills. I would recommend a diesel for hills and heavy loads. We ordered a Ford F550 with a gas motor because it was less expensive upfront, but we had problems with it because it didn't like going up hills with a full bed. There was a lot of wear and tear on the engine so we had to do a lot more maintenance on it. With a diesel work truck, you will pay more upfront, but it can be worth it for what you save on maintenance in the long run. 
Q: Do you use GPS tracking on your work trucks?
A: We use a drone app that lets us set speeds for our trucks so we are notified when the truck goes over that speed. It also tells us where our trucks are and how long they have been there. That way we can tell if our crew is on the job site or where they should be.
Published on: December 09, 2019
NEXT ARTICLE
Managing and Purchasing a Fleet for an HVAC Business