A Bakery Manager Discusses 2 Work Vans used for Deliveries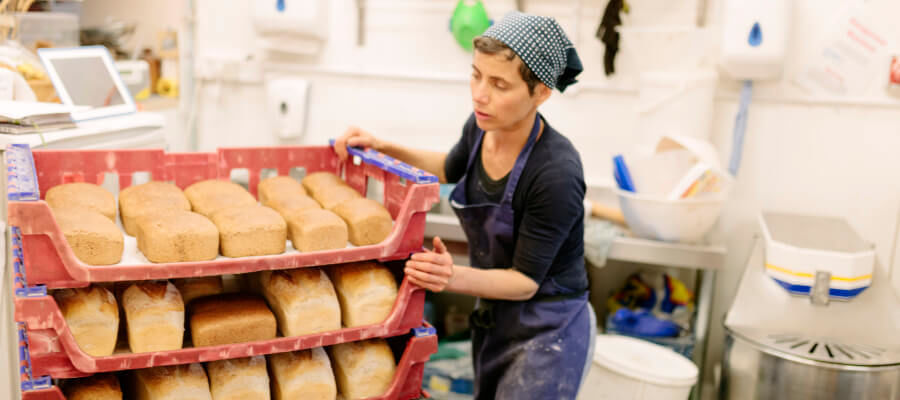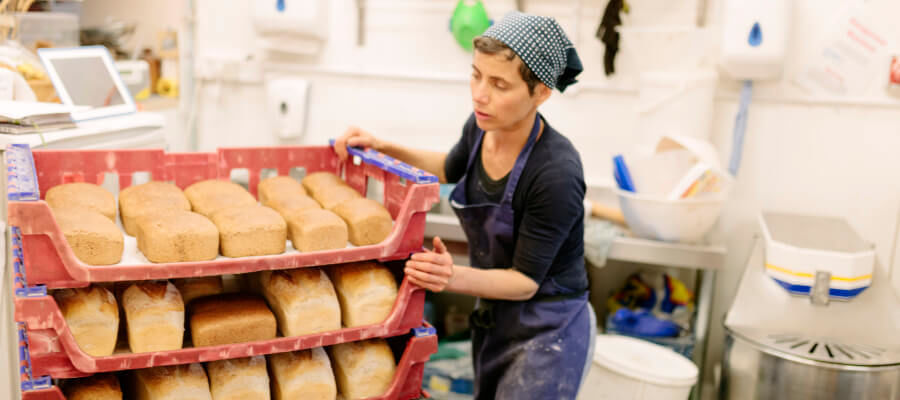 A Bakery Manager Discusses 2 Work Vans used for Deliveries
Share
LinkedIn
Facebook
Email
Copy Link
We speak with Jordan, manager of Tin Roof Bakery and Cafe, about their two Nissan vans that serve different but similar purposes for transporting large amounts of baked goods.
A great door configuration and rack arrangement assure large and safe deliveries.

The Sprinter van gets better gas mileage, but both work well to meet their needs.

Custom made racks help the business keep track of equipment.

Though the vans work well, he would've liked to have automated locks for convenience and to avoid locking issues.
Q: What vehicles does your bakery use?
A: We have two Nissan vans. We have an NV Cargo van with a high roof and we have a Sprinter. The big van is for most of our larger bread deliveries that go out of town and the small Sprinter is for running around town.
Q: What is a big delivery?
A: For us, a big delivery is a bunch of full-bread racks, around $1,000 to $2,000 worth of product in the van at one time. It's probably about eight stacks of racks, all in about four layers of them filled all the way.
Q: How do you put the trays into the van?

A: We have something to transfer them on to get them close to the van. Then from there, you have to kind of lift up to the rack in the van two at a time and they stack up nicely, and they'll fly forward and back and forth. But in the vans, we have rolling carts, and that's how we deliver to our accounts. Each account is mostly like anywhere from two to eight racks, depending on who they are and how much they use.
Q: Is it easy to access the van for deliveries?
A: It's really easy to slide everything in and out. It's big, and you are able to open both doors. I like our big van because the roof is really tall, you can get a lot in there. You can get everything in it you need bread-wise on one side and still have room to the right of it to get your knick-knacks--maybe your pastry orders and things like that because they use different containers
Q: Are the vans fuel efficient?
A: The Sprinter gets much better gas mileage than the big one, but they both get fair gas mileage.
Q: Where did you purchase the cargo vans?
We got both of them from the Nissan dealership. We have a good relationship with them already and they kind of know what we do and what we're looking for.
Q: Is there anything you would change about your vans?
A: We didn't get the automatic locks and that's one thing I'm like: "I wish I got them!" because it's such a pain and it just puts wear on your key. And then the keys and the locks start to go out really fast because you're using them so much. There's one lock that doesn't work on one of our vans now and this wouldn't have happened if we had the keyless access--you know the button. Right there: you would have saved money on having to get the locks fixed, the keys redone. Cruise control too, it doesn't have cruise control either.
Q: Did the cargo van come with racks?
A: We purchased our racks for us, they've got our name on it, they're custom color. The other bakeries in town have certain colors. We didn't want to have the same color because you have to leave the racks at some accounts and they could easily be stolen so it's important to have your own distinct look to your racks.
Published on: September 26, 2019
PREVIOUS ARTICLE
5 Things a Catering Business Should Think about when Purchasing a Work Vehicle
NEXT ARTICLE
This Solar Business Owner talks about the Advantages of Advertising with his Van