The Best Work Vehicles for Electricians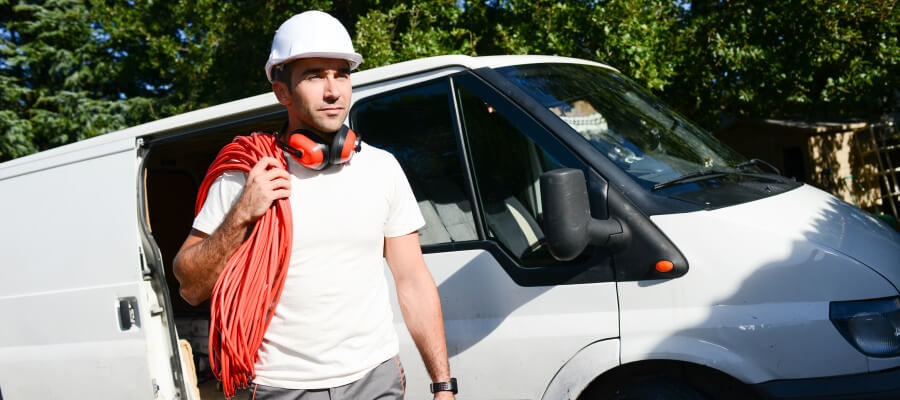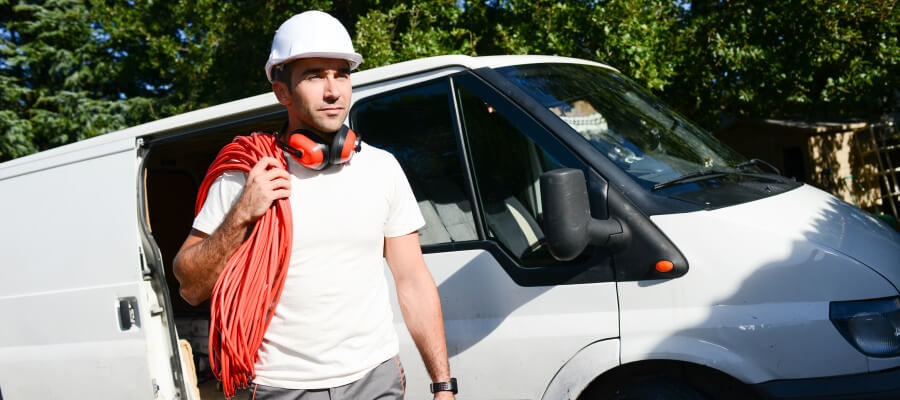 The Best Work Vehicles for Electricians
Share
LinkedIn
Facebook
Email
Copy Link
With the varying styles of work vehicles to choose from in today's saturated market, it can be difficult to identify which vehicles best suit an electrical contractor's needs. Electricians need storage for specific equipment as well as a reliable van or truck to power their operations. Here are some top vehicles.
Cargo vans: great on both space and security while fitting in smaller spaces.

Service utility vans: Maximize organization with internal and external storage options.

Pick-up trucks: a more fuel efficient option with towing power and multi-purpose function.
Cargo Vans: Not Just a Storage Container
Electricians work in situations that require a versatile assortment of tools. Cargo vans are one of the best options to maximize storage for all these necessary tools. Gary Chamberlain, Operations Manager at Cote Electric in Manchester, NH has been working in the electrical trade for almost four decades. Gary described the array of benefits they've found in their Chevrolet Express and Ford Transit work vans. "We use vans for a few reasons. For one, they keep everything enclosed from a security standpoint. They are also great for moving through alleyways where larger vehicles would have difficulty. And, parking is far easier with the vans."
Ford's 2019 Transit cargo vans are a great example of an all-around workhorse for electricians. Ready to deliver off the lot, Ford's Transit 250 Medium Roof model offers over 300 cubic feet of cargo space. This is plenty of capacity to build a custom organization system for maximized storage.
Service Utility Vans – Organization Built on Efficiency
Service Utility Vans are at a higher price point, but offer the best storage and organization system on the market. Knapheide's close attention to maximizing organization and comfortable access through ergonomics is displayed in their Ford Transit Cutaway Chassis.
The Transit cutaway package includes four exterior adjustable divider shelves, two full-length shelves on both sides of the interior, as well as interior lighting to make life easier in the darker months or late-night work. Wire-nuts, receptacles, various conduit lengths, and tools all have their place in the service utility van body. With a higher roof, there will be less need to hunch in these trucks.
Gary told us that when Cote Electric purchases vehicles, "we'll attempt to suit our electrician's preferences with how they are kitted out. That said, we also try to keep the vehicles set up in a similar way to organize our fleet."
There is something to be said about the consistency of vehicles across your fleet. Two options for building a stellar fleet include: Reading's service utility vans and Knapheide's service utility van.
More than a Simple Pickup
Pickups trucks are a great option for any electrician looking for a vehicle that can haul, tow, and transport supplies while remaining a fuel-efficient pick for the comprehensive contractor. Two of the best contenders are the Ford F-Series and the Chevrolet Silverado models. The Ford F-Series has been a mainstay for full-size pickup lovers since its release nearly 75 years ago. Here is a comparison.


| | | |
| --- | --- | --- |
| | 2019 Ford F-150 2WD | Chevrolet Silverado C10 |
| MPG (city and highway) | 22 | 17 |
| Annual Gasoline Cost (est.) | $1,900 | $2,450 |
Fuel efficiency aside, a pickup is valuable for its multi-purpose functions. Not only can it tow heavy equipment and load the bed with supplies and tools, but it can transport crew members if you choose a crew cab. These are all reasons why the pickup truck is a mainstay in the electrical trade.
Published on: September 10, 2019
PREVIOUS ARTICLE
An Electrician Discusses Things to Consider when Buying a new Work Van
NEXT ARTICLE
Important Accessories for an Electrical Contractor's Vehicle