Carefully Selecting and Configuring a Locksmith Van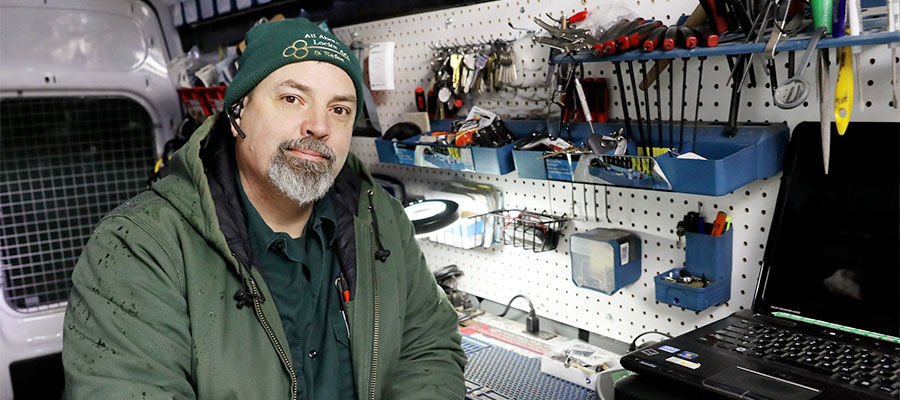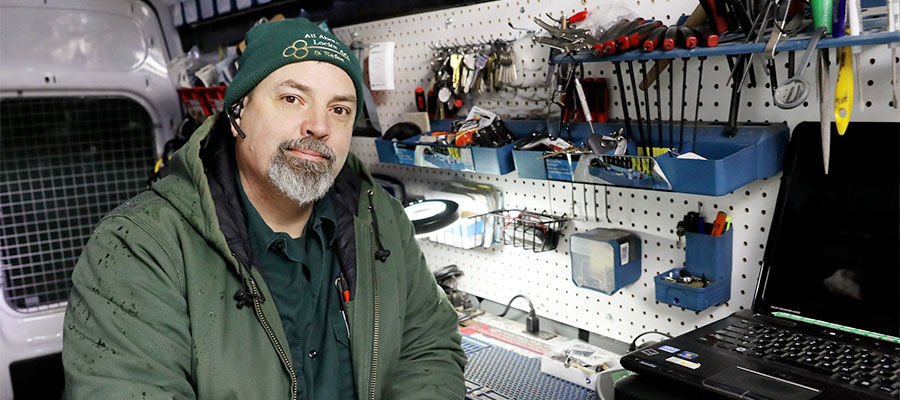 Carefully Selecting and Configuring a Locksmith Van
Share
LinkedIn
Facebook
Email
Copy Link
We interview Michael, owner of All About Locks, to hear from him in detail about choosing the right van for his business, what van he currently has, and how it fits him and his business.
Michael drives a Ford Transit 250 and prefers the Ford brand, but will go for whatever best fits his business and budget.

Outfitting his van was helped by Adrian Steel, which installed a workbench. 

He keeps his van spacious to handle a secondary workplace and large items like safes.

Fuel efficiency is an important balance between vehicle cost and the amount of jobs he can do each day.
Q: What is your decision process for buying a new van?
A: Making a decision on when to purchase a van is tricky. But basically, I'm going to drive it till the wheels fall off. The van lasts about five years. After things start falling off, maintenance becomes a problem, and the van is down when I could be working and it's in the shop, that's when I start getting serious about buying a new van.
When I'm looking for a new van, I'll look anywhere… I started thinking about buying a new van early on and I do a lot of research because I'm very methodical about that. I will exhaust myself looking for the right van until the right van comes along.
I'm definitely a Ford guy— I like Ford — but I'm going to go with whatever has the best bang for the buck. I believe in buying a good tool that's going to last and be dependable. For me, that goes with the equipment that I put in the van, the van itself, and everything I stock with it. I want the best equipment so I can get the best service and I have the least amount of downtime.
When I started thinking about outfitting a new van, I did a lot of online research. I talked to other locksmiths. I looked at pictures online. I just basically talked to people and figured out in my head, based off of my own experience, what I know I'm going to need and what other people are doing, and I came up with something that works for me: what would hold the most inventory and what would help me be a better service provider so that I can get in and out of the job quickly and service the customer.
"I want the best equipment so I can get the best service and I have the least amount of downtime." - Michael Meyers, Owner of All About Locks
I looked at bench size and how much workspace I needed, how much room the equipment was going to take up, and how much inventory I was going to have to carry. I looked at all these factors and everything changed after I outfitted the van. I changed it, pulled it out, put it all back in and made it work.
But the one thing that I turned away from was some of the equipment I saw was just kind of flimsy. I didn't want anything that was going to fall apart inside or fall off the outside of the van. This van goes down the road with a lot of weight. It's shaking and bouncing, and I definitely don't need any of my expensive tools or parts falling on the ground. Again, organization and being able to get out to the job to get it done in an efficient manner is very important to me.
Q: What's the van you're driving currently?
A: This is a 2014 that we picked up right away. We bought it brand new and we were one of the first people to purchase the van. I did a lot of research. This was the van that I wanted. The challenge was coming up with a way to outfit it because it was so new that the installers, Adrian Steel, had Nissan NV tall packages, but they didn't have anything specifically for the Ford Transit 250. Adrian Steel provided what I needed with the workbench. They were able to install it, so I can have the stand-up bench that's three feet high.
The key-cutting equipment, I was able to modify it as I needed with the pegboard, and it's my van cave. With 14 hours a day in this van, you want to be comfortable. In my last van, a 99 Dodge Ram, I was hunched over all the time in the van. I would get home, walk around the house and I was still hunched over. So I wanted to be comfortable.
Q: What kind of locksmithing jobs do you do out of your van?
We dabble in a little bit of everything. We even open safes. I don't have any of my safe equipment in the van because that's a lot of heavy equipment that I keep in storage. I can open up these back doors, get a couple PVC pipes, lay them down and roll the safe right in there. I have moved small gun safes and large fire safes in this van.
We do pretty much carry a little bit of everything. We do digital locks. We do the high-end security keys with the laser cuts and the remote buttons. We even do EEPROM work where we pull the car's computer and we rewrite the chip itself when you can't program the keys through the OBD port.
When I was doing some research, I realized I needed a workspace up front in the cab area, and it's got two bucket seats. I found a nice workspace that sits on the passenger seat. You strap it in with the seat belt for safety. It has a filing system. It has a pullout drawer. So again, organization and being able to get out to the job and get it done in an efficient manner is very important to me.
Q: What's important to you in your van?
A: I pride myself in being organized, having all the equipment I need, and having my reference material right away so I can give the customer the best experience possible when I get out there. Having a large van well-organized helps me give the customer the best experience.
Q: What special configuration have you done to prepare this van for locksmithing?
A: Out of my old van, I took the shelving. I had one on each side. I put it side by side over here and I put up the pegboard. I have all my key shelves for automotive up here. I have all of my commercial and residential locks, and my pinning kit. I have all my transponder keys for various cars down here. This is my programming equipment for cars. These are all the high-end keys, equipment, and tools for making those keys.
Over here, we have the hard work in the vehicle. I have my commercial and residential locksmith supplies over here. This is my workstation with a printer. I can print out invoices that people send me. I can print out invoices that I create and have people sign them right on the spot. I got my workbench area here. Then I have my code cutter, my duplicator, and then all of my supplies for this equipment up here.
Q: How important is fuel efficiency to you?
A: The more organized I am and the more inventory I can hold, the more jobs I can do in a day and that increases my bottom line. My last van got about eight miles to the gallon. This van gets about 14. If I had upgraded to the diesel, I'd get much better fuel mileage, but it's also $10,000 more. So do you really come out ahead paying more for a diesel engine? Now, if I'm going to keep that van for 10 to 20 years, I'm probably better off with a diesel engine because it's going to last forever. But I go through vans about every five years, so I went with the less expensive, easier-to-get, gasoline motor.
If Tesla made a van, I would buy it and just let the van drive itself. But as far as the equipment goes, I rode around for about a year then I pulled everything out, put everything back in, and reinstalled it in a more organized and efficient manner. I'm just about at the point where I can't hold much more inventory, but I've got everything I need.
Published on: December 13, 2019
NEXT ARTICLE
Transform a Cargo Van into a High-Tech Secure Transport Vehicle