Chassis Cab: The Definitive Guide to Choosing a Cab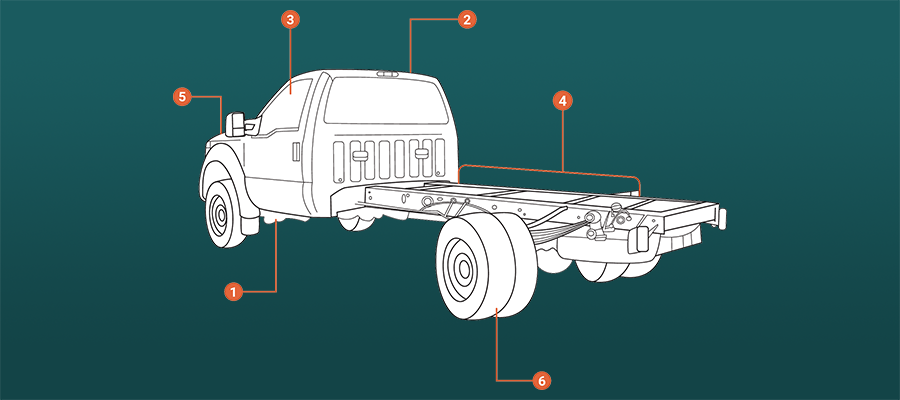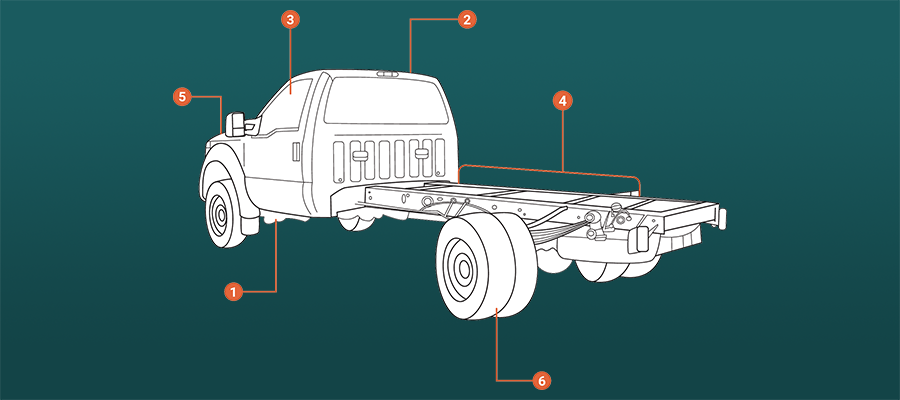 Chassis Cab: The Definitive Guide to Choosing a Cab
Share
LinkedIn
Facebook
Email
Copy Link
The chassis cab, or a cab and chassis truck, is a feat of customization in the commercial vehicle industry. It is ideal for business owners and fleet managers who need their fleet to serve their business to their discretion.
4x4 and 4WD
Cab and chassis models boast power in their 4x4 and 4WD configurations. Ideal for roads, paths, and the proverbial roads less traveled, the 4x4 and 4WD chassis cab drivetrain offers individual power to each wheel at the user's will. Snow, sand, mud, and site conditions, that would make a typical pick-up truck shake in its boots, are no problem for the 4x4 or 4WD chassis cab truck. 
Cab Type
The chassis cab truck is likely the most user-friendly when it comes to a precise ordering style in both upfit builds and cab design. Available in standard, crew, and even roomier cab options, the chassis cab truck can fit all requirements for the comfortable transport of your team and their tools. It also features a manufacturer-specific series of interior widths and lengths making it the chassis cab is again the optimal choice for a business in the market for customization.
Click Here for More Information
Comfort Level
Outfit your fleet with a series of manufacturer-specific trim packages in the chassis cab. Trim packages not only update the overall aesthetic of the exterior of the cab and chassis, but they also include upgraded interior electronics, seat sizes and coverings, and the final presentation of accessory features like the dashboard and steering wheel.
Trim packages are fairly consistent across most manufacturer models but will include slight differences to both interior and exterior aesthetics. It's important to note that some manufacturer trim packages will come with variable performance grades in both towing and hauling capacity. Be sure to review the added benefits of each manufacturer's trim packages to ensure a proper balance of comfort and power for your chassis cab truck. 
Cab-to-Axle
When considering a chassis cab model, you should take time to decide on the final body style and presentation to craft your perfect commercial vehicle. To do this effectively, it is critical to understand the cab-to-axle measurement of your chassis cab truck. The cab-to-axle measurement is the distance between the center of the rearmost axle on the chassis cab to the rear of the cab. 
This dimension is consistently reviewed by body manufacturers like Supreme and Knapheide and is standardized across the commercial vehicle industry. Common cab-to-axle measurements include 60, 84, 96, and 108 feet, which allow simple selection of a variety of body types post-purchase in the chassis cab model.
Fuel Type
Gasoline and diesel-fueled engines tend to dominate the cab and chassis arena. Due to their broad availability, these fuel types are common in the commercial vehicle industry and provide both fuel efficiency and power. 
Gasoline is a widely accepted option for fuel in the chassis cab truck. Gasoline provides an ideal medium in terms of power and fuel efficiency and is an excellent option for the cab and chassis model.
On the other hand, diesel provides a level of power and fuel efficiency unfound in gasoline cab and chassis models. Featuring a higher power output, the diesel engine in a chassis cab will provide greater towing
Published on: January 01, 2018