Chipper Truck: Versatile Hauling for the Adaptive Crew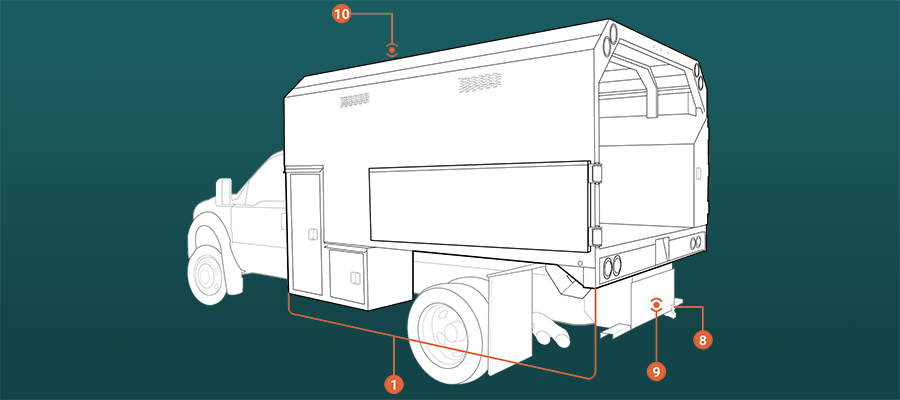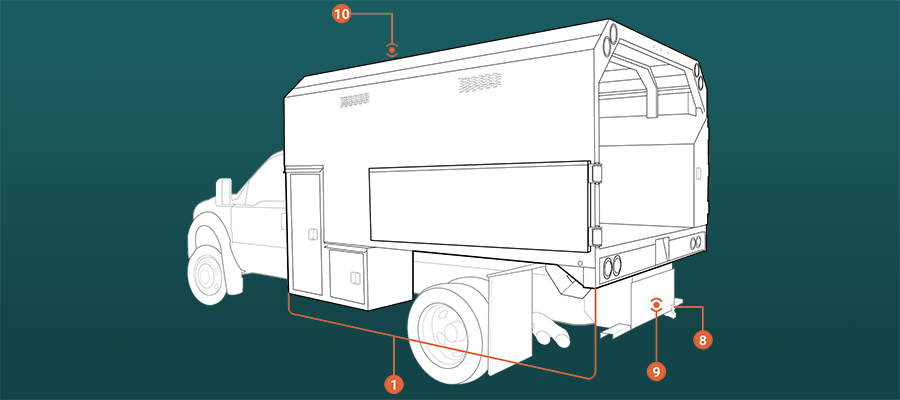 Chipper Truck: Versatile Hauling for the Adaptive Crew
Share
LinkedIn
Facebook
Email
Copy Link
The chipper truck, commonly used by arborists, tree-removal professionals, and federal and state forest and land management divisions, provides a clean solution to a messy job. Primarily used for wood chipper transport (and subsequent wood chip collection), this model offers far more than the ability to haul chipped wood. Featuring a series of toolboxes, a hoist, and even an aerial bucket in forestry body conversions, the chipper truck is a mainstay for anyone working in tree-removal applications.
Body Length
The common body lengths range from 9' to 18'. In most operations where chipping is infrequent, a smaller 9' container will do the job handily, and you'll have more than enough cargo space to break down and transport smaller trees and limbs without overloading the vehicle. On the other hand, if your operation uses a chipper capable of grinding more than 10"-diameter limbs, and feeds it all day, then it pays dividends to consider a heavy-duty option for maximizing cargo volume.
Most light-duty trucks may be able to support most of the weight that an 18' chipper body affords, but it is best to adhere to your truck manufacturer's GVWR specification, in order to ensure that your truck lasts longer and that no warranties are voided, when accidentally overloaded.
Side Height
Chipper trucks come in an assortment of side heights and roof configurations, to make sure your operational needs are met. The most common options measure in around 72" from the bottom to the top of the body, and feature solid straight panel sides, with an angled roof for water run-off and aerodynamic transportation. On the back of the chipper truck, you'll find an open rear space that is partially covered by a swing or drop-style panel door. This open space allows for chipped material to be shot into the cargo area and stowed, to ensure that your friendly neighborhood drivers aren't covered in any "arborist confetti".
Material
Steel chipper truck bodies have the extreme durability that this raw material offers. Their corrosion-resistant and slick coatings provide further utility to the end-user. That being said, steel is heavy. On average, aluminum alloys will offer a close counterpoint in durability and scratch resistance, while also reducing the body's impact on payload capacity. But what about the price?
Steel will beat out aluminum in up-front costs, in most cases. Where aluminum alloys differ from steel, however, is in the saved cost perspective. With a reduced weight in payload, aluminum affords the user with a decreased impact on fuel economy in comparison to steel. Additionally, the corrosion-resistant nature of aluminum alloys can provide a longer useful life than steel, resulting in infrequent repairs and a lower cost-to-own.
Click Here for More Information
Side Options
The chipper truck, with its rigid side panels, drives your versatile operation onward with options for both fixed or removable roof options - and the removable roof panel, an often-overlooked aspect of the chipper truck, allows you and your team to convert your chipper truck into a dump body truck in a matter of mere minutes.
The versatility of the chipper truck in its dump body conversion allows your team to keep working, long after the busy summer months have passed. Perfect for transporting sand, gravel, or heavier materials such as scrap metal or boulders, the removable roof section unveils an adaptable transport system for many vocations.
Advertising Space
Most successful businesses adorn their fleet in an array of branding, which gives your potential customers a sense of professionalism founded in unity. Each truck, regardless of the model, features a cohesive design and sends a clear message which conveys confidence in your customers each time that the truck passes by. Take the opportunity to get your name out there, with professional decals on your chipper body truck.
Trailer Plug
The trailer plug is the ultimate solution for drawing attention to longer trailers and equipment, with strict adherence to DVM and DOT laws and regulations. Most common trailer plugs offer seven-function controls for connecting your trailer's signaling and braking system to your vehicle's electrical system, but more function-inclusive options are also available for heavy-duty trucks.
The trailer plug provides an efficient connection when workdays seem short, and syncs braking, turning, reverse driving, and tail lights to arrange safe transport for your vehicle's equipment and your crew.
Toolboxes
The chipper truck allows your team to carry a variety of tools and equipment along the body, in its widely-available backpack and underbody toolbox systems.
Built with heavy considerations toward organization and security, these systems are compact enough to avoid interference with the truck's hoist operation, but still provide enough useful area for items like chainsaws, PPE, and harnesses, where necessary. Some manufacturers also provide interior shelving units for separating your items, providing a desirable level of organization in an - at times - "cluttered" industry.
Hoist
Modern chipper trucks come equipped with a single or multi-directional electric, electric over hydraulic, or hydraulic hoist system for unloading chipped wood without back-breaking labor. Most hoist systems are operated by a series of dual-cylinder hydraulic hoists. These hoists are operated by control panels on the body or frame, and allow users to easily offload the material.
In conditions where an "x"-point turn is not only undesirable but nearly impossible, the multi-directional hoist is a preferred option. These systems feature several hoists, which operate in unison to allow your team to dump in almost any direction.
Hitch Type
Though the main function of the chipper truck is in hauling chipped wood, this commercial vehicle also provides your team with a wealth of towing capacity for a variety of trailers and equipment. A receiver hitch provides more than enough towing capabilities, for both conventional trailers and towed wood chippers alike. While the receiver hitch is suitable for most general towing applications, be sure to review your vehicle and trailer's respective weight ratings, in order to avoid exceeding weight capacities.
Bucket
Commonly called a Forestry Body, once the aerial lift is installed, the chipper truck allows your team to easily reach limbs, which were previously only accessible by climbing.
Each bucket lift (and their respective supports) will vary in height and bucket size, but most bucket lifts can reach up to 40' in height. These lifts will typically match the body in build, and come in steel and aluminum alloy configurations. While onboard, you'll quickly find that the ease and safety of its operation becomes even more pronounced, featuring onboard controls and safety harness hookups.
Published on: January 01, 2018
NEXT ARTICLE
Chassis Cab: The Definitive Guide to Choosing a Cab