Choosing the Best Fleet Management Software: Reviews & Prices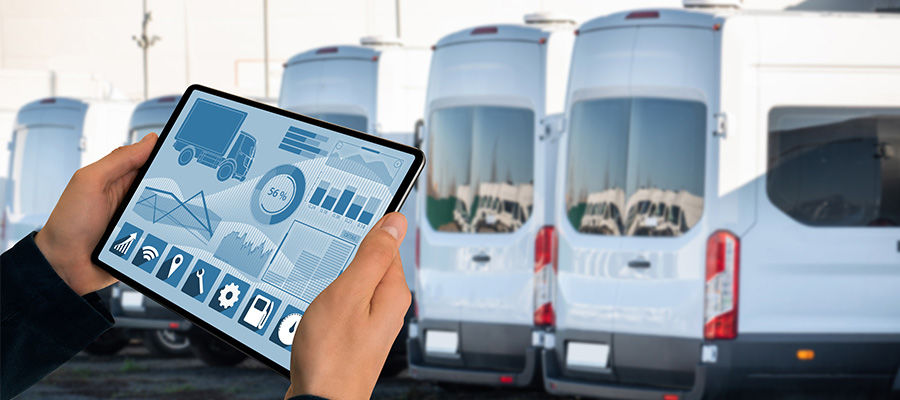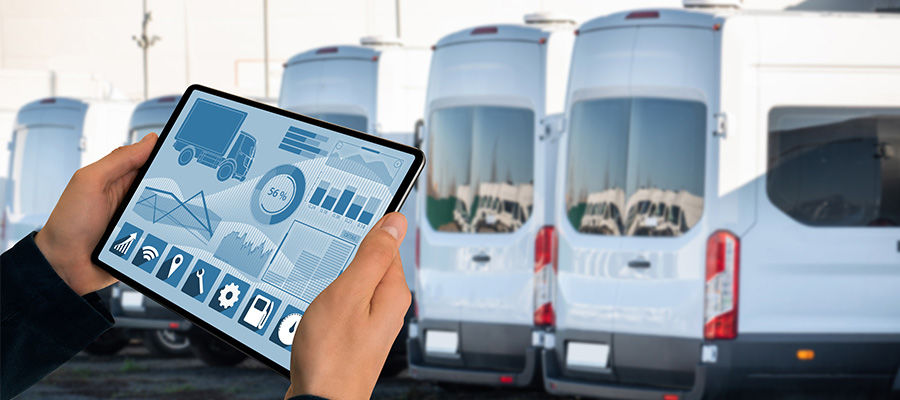 Choosing the Best Fleet Management Software: Reviews & Prices
Share
LinkedIn
Facebook
Email
Copy Link
When it comes to managing a fleet of vehicles, there is a lot to consider. There are many moving parts to keep track of, from maintenance and repairs to driver safety and compliance. If you have more than a couple of trucks and other equipment, eventually you'll realize you can't do everything.
That's where fleet management software comes in. This type of software helps fleet managers by providing tools and features for, among other things, tracking vehicles, monitoring behavior, and keeping up with maintenance.
There are many different fleet management software options on the market, so choosing the right one can be challenging. However, like any tool, it needs first to do one thing: have the features that meet your business needs. 
We should point out that companies with three or more assets should benefit most from fleet management software because of the fleet manager's challenge in coordinating a more extensive fleet. And that doesn't mean a fleet of one or two won't benefit since features like route planning, tracking driver safety and monitoring maintenance and fuel efficiency can benefit everyone. 
To help you make the best decision for your business, we've put together this buyer's guide. We'll cover some of the critical factors to consider when choosing fleet management software and provide reviews of some of the top products on the market.
What to Consider When Looking for Fleet Management Software
When choosing fleet management software, there are a few key factors to keep in mind:
Ease of Use:

Fleet management software can be complex, with many different features and options. When choosing a product, be sure to consider how friendly it is. The last thing you want is for your employees to struggle to use the software or not be able to take full advantage of its capabilities.




Cost:

Consider the cost-benefit the software offers before making a purchase. Some products are subscription-based, while others require a one-time payment.You can expect GPS fleet tracking systems to range from $0 to $700 in upfront costs and $18 to $65 per vehicle in monthly costs. Make sure you know what you're getting for your money and compare pricing, demos, training, and support between different products. Of course, read reviews.




Features:

Not all fleet management software products are created equal. Some offer basic features like vehicle tracking and maintenance scheduling, while others include more advanced options like driver safety monitoring, fuel management, and route planning. Decide which features are most important for your business and choose a product that offers what you need. But remember, there's a fine line between buying what you need and preparing for the future.




Outsourcing:

If you lease your vehicles and equipment, ask the leasing provider if they have fleet management services. Companies, such as

LeasePlan

, will partner with you to provide core services like maintenance and repair management, incident management, registration, violations, and even the remarketing of your fleet. And although these will cost money, you may save more by outsourcing the responsibility.
What Fleet Management Software Features Should Be on Your List?
Regardless of the fleet management software's features, if you don't need them or they don't fit your business, then it won't make a difference. However, here are some features that are essential for your fleet:
Hours of Service Compliance
Regulations continue to be added to your compliance list, and you need to stay up to date. If you don't, the fines can be prohibitive.
A critical regulation is Hours of Service Compliance or HoS. Depending on your fleet and number of drivers, keeping road hours accurate and up to date can be challenging. Many drivers, and yourself, have good intentions of keeping correct records but often forget and guesstimate. But when it comes to HoS compliance, guessing will eventually come back to bite you with a loss of license to operate.
Fleet management software may also include DVIRs in the HoS function. As a result, electronic Driver Vehicle Inspection Reports will be easily accessible by you and the driver.
A good fleet management software will have HoS compliance monitoring as one of its key features.
GPS Tracking
GPS trackers use global positioning satellites to track vehicle locations so you can track and plan vehicle routes. Depending on the software, either you or the software can quickly locate your drivers to determine who may be closest to a pickup opportunity. It can also reroute your drivers to avoid accidents and construction delays, helping you run efficient routes.
When working with fleet logistics, it's important to consider software with geofences and real-time vehicle location. In addition, providing clients with accurate arrival times will help them plan and keep you efficient.
Route Planning and Tracking
At its basic level, route tracking gives the fleet manager data on whether the actual route compares to the planned route. As a result, the potential for using the data to reduce increasing costs offers promise. 
When using route planning and tracking, it's essential to look for software that lets you and the driver track and report in real-time. For example, real-time monitoring will allow you to see if your drivers are in the process of meeting their delivery times. And if your deliveries and pickups aren't arriving on time, you can use the data to adjust future routes. 
Real-time route tracking is potentially a fantastic cost-saving technology as fuel prices rise. However, route tracking may require increasing employee headcount to monitor your routes and analyze the data. 
Maintenance and Repair Management
Vehicle downtime means a potential loss of business and income—and no company wants that. But unfortunately, downtime is such a hit on company bottom lines in today's economy that drivers are pressured to bypass safety checks. Ultimately, skipping safety protocols for profit will cost you much more than performing routine maintenance.
There's nothing you can do to prevent accidents, recalls, or anything else out of your control, but do you know the state of your current vehicles right now? Your company's success can depend on your ability to be prepared for and plan for downtime.  
Not knowing the health of your fleet will be more than the cost of replacement parts and mechanics' time. At best, your equipment and drivers will lose days of work. And at worst, you'll have damaged cargo and upset customers.   
Fleet maintenance and repair management software can automatically pull vehicle health data and fuel usage. In addition, it will automatically alert you about the manufacturer's scheduled time or mileage service. Since it connects to your vehicle's OBD port, you receive real-time alerts if the vehicle computer picks up an issue.
Knowing the current state of your fleet's maintenance will help you prepare for vehicle downtime, schedule it, and rotate vehicles to cover it. 
Driver Safety
Keeping drivers safe is a top priority. Unfortunately, a collision cannot always be prevented, but when 94% of incidents are caused by human behavior, there are measures you can take to reduce risk and keep drivers safe.
Fleet management software can identify high-risk drivers before an incident occurs and target individual training. This action will reduce the cost of unsafe driving in your fleet and reduce the risk of these costs growing over time. In most driver safety systems, you'll get:
Motor Vehicle Record checks & continuous monitoring

Telematics sensors and dashboards to track driver behavior

Comprehensive driver risk assessment

Desktop and mobile training packages

Prescribed driver safety training

Closed-loop driver coaching

Communication support from the top-down




And you'll want to make sure dash cams are included in your fleets. Numerical data can only go so far, and visual evidence will provide definitive proof to exonerate or coach when necessary. 
Fuel Management and EV Use and Charging
Currently, diesel is over $6 in some states and climbing. So, fuel will continue to be one of your fleet's most significant expenses. And as a result, identifying and curtailing idling time is becoming essential.
Most fleet management software will report fuel level, EV usage, and idle time. As a result, you can analyze individual and fleet-wide fuel consumption. You can also view the vehicle's current and historical state of charge for EVs. Additionally, you'll have real-time views of the vehicle's charging status while at the charger.
Another consideration should be finding management software that combats fuel fraud through secure purchasing tools tied to fuel cards. Fuel cards issued to each driver can help you limit abuse and fraud. In addition, buying parameters save you money by restricting certain transactions.
Top Fleet Management Software
Since we've discussed some things for you to consider in fleet management software, let's look at some software that could be used for your company.
Fleetio: Reviewers say Fleetio's cloud-based system is one of the best fleet management software options available. Its free 14-day trial period should give you a good idea of whether it fits your company. Although Fleetio will produce reports, it requires third-party assistance to do so, but it does provide live tracking. 
Fleetio automates multiple management operations, including maintenance scheduling, vehicle tracking, monitoring, and driver safety. The price is a reasonable $35 a month for a minimum of five vehicles.
Samsara: Samsara's cloud-based fleet management system hits the needs of GPS tracking, trailer tracking, dash cam, reefer monitoring, paperless DVIRs, temperature monitoring, and more. It provides real-time tracking, HoS and collects data for back-office analytics. 
Samsara does provide hardware that, they say, can be installed and set up in 15 minutes, and it works with any vehicle.
Reviewers say it works well for small and midsize fleets and is scalable and user-friendly for operators and drivers. In addition, Samsara's subscription license includes phone-based tech support and is priced per device per year.
Geotab: Geotab is one of the largest telematics companies globally, with over 2 million users. Although you can only pick up Geotab through resellers, it's still worth considering because of its ability to work with your already purchased third-party hardware or systems. 
In addition, the MyGeotab cloud-based software has an extensive SDK library and tools that can easily pair with your tracking device, potentially saving you considerable money and protecting your current investment.
User reviews have commented on how easy it is to use and how they could better optimize their expense, better monitor drivers, and control shrinkage in real-time. And, like most fleet management software, they offer a free 14-day trial.
Verizon Connect: Verizon Connect is recommended for midsize fleets and larger. Reviewers give the product high marks for its easy-to-use and comprehensive system. But they've noted that it has a steep learning curve. With multi-language and multi-time -zone options, global operations could undoubtedly benefit. 
It also offers excellent live training resources and opportunities for scalability that could benefit every company. And Verizon Connect's customizable dashboards, like other services, "make it easy to review your progress towards KPIs or budgets, with near real-time fleet analytics," according to Verizon. However, reviewers give Verizon Connect low marks on customer service.
Choose the Feet Management Software That's Right for You
Fleet management software is essential for managing your fleet of vehicles and equipment, regardless of its use. As you research, you'll notice many products available, so make sure you consider your budget and future plans when making the final decision.
Disclaimer: The views expressed here are solely those of the author in his private capacity and do not in any way represent the views of the Comvoy.com, or any other entity of Work Truck Solutions.
Specially written for COMVOY.com by:
Steve Mitchell
Steve grew up on a farm in East Texas. And his first experience with driving trucks was using the creeper gear as the driver in his great uncle Homer's flat bed Chevy hay hauler. Even though he now lives in Southern California, he's still filled with passion for four wheels. On sunny days, you'll also find him playing as an endurance athlete on the bike in SoCal, but you'll know he's thinking about cars.
Published on: May 11, 2022
NEXT ARTICLE
Here's What You Need to Start a Towing Business