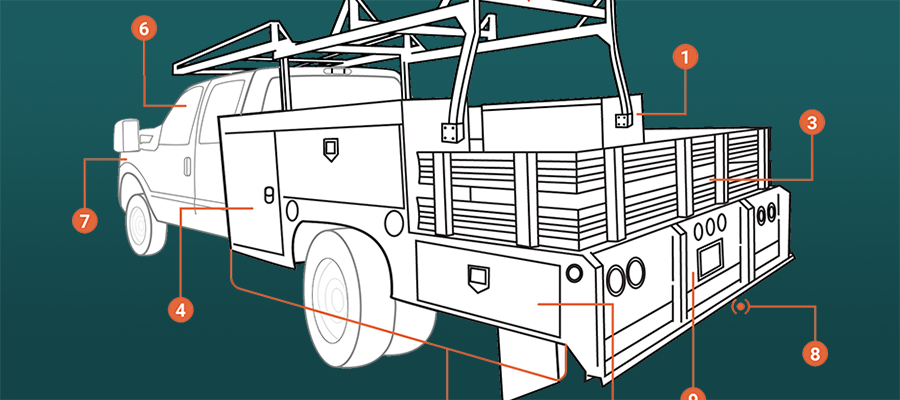 Combo Trucks:  Indecision Banished
Share
LinkedIn
Facebook
Email
Copy Link
In an ideal world, our work trucks would serve us best in featuring the largest cargo areas, the strongest towing and hauling capacities, and all of the bells and whistles - all in one commercial vehicle. And while the commercial vehicle market doesn't quite pack all of these concepts into one truck, the combo truck comes pretty close. Comprised of elements from different commercial truck models like the service truck, utility truck, stake truck and more, the combo truck aims to do one thing: meet all of your operational needs in one contained unit.
Body Material
Electricians, plumbers, mobile mechanics… all of these vocations make sound use of the steel and aluminum bodies that make up the combo truck.
Steel is a far more common option, due to its relatively inexpensive cost to produce and its high-level durability. On the other hand, aluminum affords a lighter bodyweight, which increases the capacity for more tools and equipment concerning payload. Add in a natural corrosion-resistant composition, and the aluminum alloy combo truck quickly becomes a job-friendly option amid other steel alternatives. Aluminum bodies do tend to cost more in up-front expenses - but also impact fuel efficiency and maintenance costs to a lesser degree throughout the combo truck's useful life. 
Body Length
Most combo trucks are built to a body length ranging from 9' to 13' long, and offer plenty of room for a variety of features along the body. In cases where you're hauling what may effectively be an entire workshop in the back of your combo truck, 13' body will readily suit your needs. Conversely, an operation with a more vocation-specific operation may find greater utility in a smaller, 9'foot body, to meet regular job functions.
Work Platform
The rear work platform of the combo body truck doubles as both additional storage and a clean workspace for a variety of vocational operations. The work platform is surrounded by a series of wooden or metal stakes, in order to make sure that your equipment isn't lost in transit. The wide working area allows you to power through the detail work in your projects and then load gear up easily, once completed. Each work truck will vary in width, and this will determine the amount of workspace you have to work with, but the average platform width measures in at around 94" across.
Click Here for More Information
Compartments
Each combo body takes inspiration from commercial vehicle models like the service and utility trucks, with their spacious compartments and storage systems. Storage compartments along the combo truck provide your team with the ability to completely organize tools, equipment, and any sundries needed to finish your work effectively.
Most upfit manufacturers design their compartments with tenets of security, weatherproofing, and organization in mind. This concept is clarified with a series of weatherproof, OEM-style sealants lining the interior of each compartment door. For added security, compartments also come equipped with a series of triple-contact door locks. Each compartment also features a series of standard shelving units. Most upfitters also offer mechanic's drawer-style shelving, to ensure that all of your tools remain locked down in transport.
Storage
While the compartments detailed above may be a bit small for longer tools, the combo truck comes with the option of a lengthy toolbox, for housing items too large for the organized compartments. Typically constructed with steel or aluminum panels, the toolbox operates similarly to the compartments. Both include weatherproofing seals, three-contact latching systems, and the option for a remote cargo lock, capable of attaching to your key fob. 
Comfort Level
As is standard in the upfit industry, the combo truck isn't a cookie-cutter model in any aspect of organization or creature comforts. Each upfit begins with a fully customizable chassis cab and lends itself to creating a vehicle designed almost entirely by your own hand. Most trim packages include additional backup cameras, increased towing and hauling capacity, and luxury effects, such as heated seats and steering wheels. 
Fuel Type
In most cases, the combo truck will feature standard diesel or gasoline options, with each one offering their individual up-front and long-term cost benefits over the other. Combo trucks, and the long list of manufacturers that engineer them, can also be ordered to run on flex-fuel, natural gas, or hybrid options. 
Hitch Type
Though the combo truck is optimized to carry a wide variety of tools and equipment, bulky material and gear are often better-suited to ride on a trailer rather than in the cargo area. Fortunately, with a receiver hitch, the combo truck is more than capable of towing a variety of trailer configurations. The receiver hitch installs behind the rearmost axle and below the truck tailgate, to allow for a quick connection to any trailer compatible with a receiver hitch.
Trailer Plug
When towing a trailer, it is critical to use a trailer plug which ensures that all signaling, braking, and tail lights are working in tandem between the vehicle and the towed trailer. Most trailer plugs come equipped with a common series of seven different functions, including left and right turn signals, braking, reverse and tail lights, on top of the ground connection to keep your trailer safe to work with. The trailer plug offers a simple solution to the ever-changing state DMV and DOT laws that are renewed often throughout the United States.
Rack Type
Many business owners and tradesmen work in locations and situations which require quick access to a variety of heights with materials that can obstruct the working area of the combo truck. The combo truck features a series of metal or aluminum material racks for all equipment and sundries that require a lengthy storage area. Capable of supporting multiple ladders at once, the material rack offers your team a system that welcomes the addition of a variety of ratchet straps and securing agents, to always make sure that your team, and the drivers around you, are as safe as your tools during transport.
Published on: January 04, 2019