Flatbed Truck: Transport with Flexibility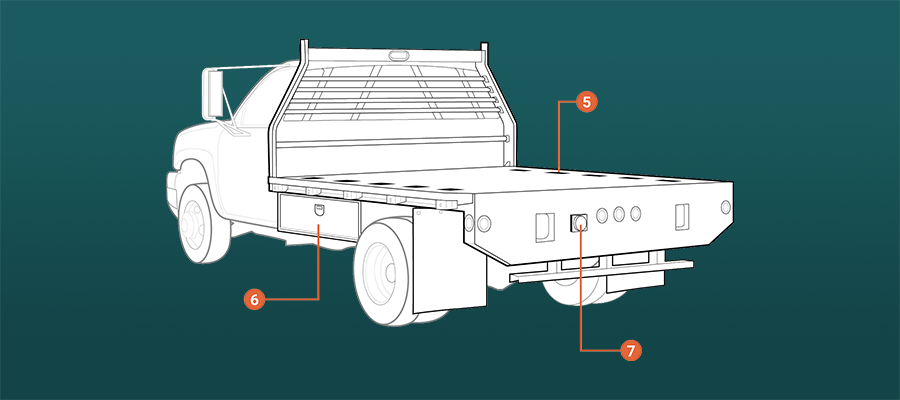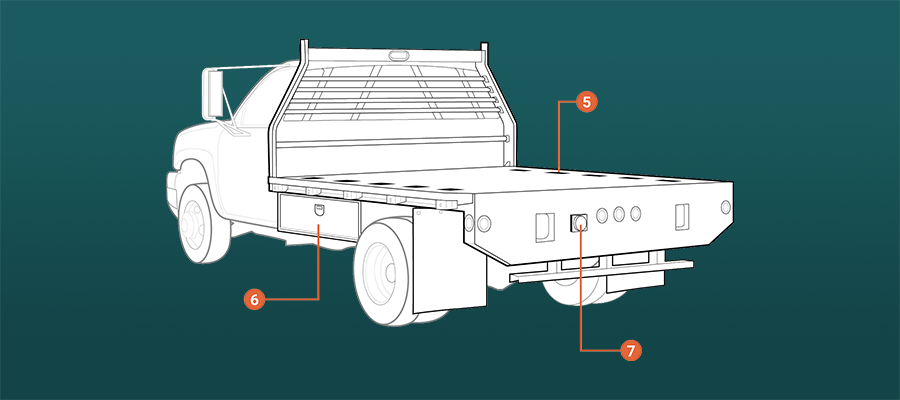 Flatbed Truck: Transport with Flexibility
Share
LinkedIn
Facebook
Email
Copy Link
The flatbed truck body is a preferred vehicle for transporting heavy, awkward loads that don't rely on an acclimated environment. Known for its utility and customizable nature, a flatbed truck is more than just a platform for delivery. Flatbed trucks support a variety of operations that require heavy hauling, towing, and even delivery situations requiring more support from added wooden or metal stakes. The flatbed truck offers much more flexibility than the typical delivery requirements for a cargo van or box truck, and the notion of transporting any product or material, at any time.
The bed is designed to carry varying sizes of cargo with a large number of tie-down areas.

The flatbed truck can support many different types of towing depending on the hitch type.

Bed length can range from 7 to 53 feet, and preference will depend on cargo.

Stake pockets allow materials to be contained rather than tied down.

Toolbox for easy storage can be mounted to the bed and trailer plugs can be installed for a trailer.
Cargo Control
A flatbed truck body has a unique ability to make specific and unique use of a simple staging area. Crafted in varying lengths, the flatbed truck features an array of steel or aluminum cargo tie-down connections that provide further security than aluminum or fiberglass reinforced plastic (FRP) sidewalls. From heavy materials to vehicle components, the flatbed truck locks down your deliverables with a series of woven nylon straps, ensuring all products and materials are delivered without incident.
Hitch Type
In addition to supporting heavy materials on the flatbed itself, the flatbed truck can support a variety of towing operations. Hitch types for the flatbed truck can include receiver hitches to gooseneck hitches. A gooseneck hitch is going to offer a higher towing capacity than a receiver hitch, at the cost of workable space on the flatbed truck platform. Installed on top of the flatbed platform and above the rearmost axle, a gooseneck trailer locks onto a steel bulb, offering a stable connection for a series of trailers. Receiver hitches are installed in the rear beneath the flatbed body and support multiple trailer types while maintaining the use of the entire length of the flatbed truck's platform.
Length
Flatbed trucks range in length from 7 to 24 feet for light and medium-duty applications and up to 53 feet for class 6-8 heavy-duty applications. As expected, the length of your flatbed body must correspond with the materials, tools, products, and even vehicles you plan to transport on the flatbed truck's platform. Shorter platform lengths are typically used to transport smaller pallets or vehicle components, where longer platforms can transport more robust delivery options, finding greater utility within customization.
Click Here for More Information
Material
Flatbed trucks are built with strength, durability, and an ever-changing commercial world in mind. Modern flatbed trucks are available in a variety of materials that include steel, aluminum, aluminum alloys, and pine platforms. In recent years, a combination of these materials such as a steel frame with an aluminum floor, or pine and aluminum alloy pairings, offer an even further utility in their lightweight and durable construction.
Stake Pockets
A flatbed truck can quickly change its overall function in what it can haul with added stakes within the built-in stake pockets. The stake pockets in the flatbed truck offer secure containment to materials that would otherwise need to be tied down. Each flatbed truck manufacturer will specify different lengths between stake pockets, further varying with length and width of each upfit. The stakes themselves also come in an array of materials that include steel, aluminum alloys, different species of wood, and synthetic plasticized materials.
Toolbox
The top and underbody mounted toolboxes provide an easy storage option when most of the flatbed is used for open storage, which is ideal for anyone running an entire operation out of their flatbed truck These toolboxes mount behind the rear of the cab or along the bottom of either side of the truck. Comprised of either a solid steel or aluminum alloy construction, these toolboxes can be fastened or welded to your flatbed body and come in multiple sizes. Perfect for hauling your hand tools with ample space to support bulky power tools, the flatbed-mounted toolbox is a mainstay in flatbed accessories and is perfect for hauling hand tools or bulky power tools.
Trailer Plug
A flatbed truck with a rear-mounted trailer plug is an efficient option for operations looking to easily connect both their truck and trailers without spending all day doing so. Available in multiple configurations, the trailer plug gives a user an easy way to ensure both the flatbed truck and trailers operate in sync with their brake lights and braking systems, plug and trailer depending. This built-in system makes operating with a low-visibility, heavy load seamless and safe when operating in less desirable traffic conditions.
Published on: January 04, 2019