A Florist Compares her Nissan NV200 and Ford Transit Vans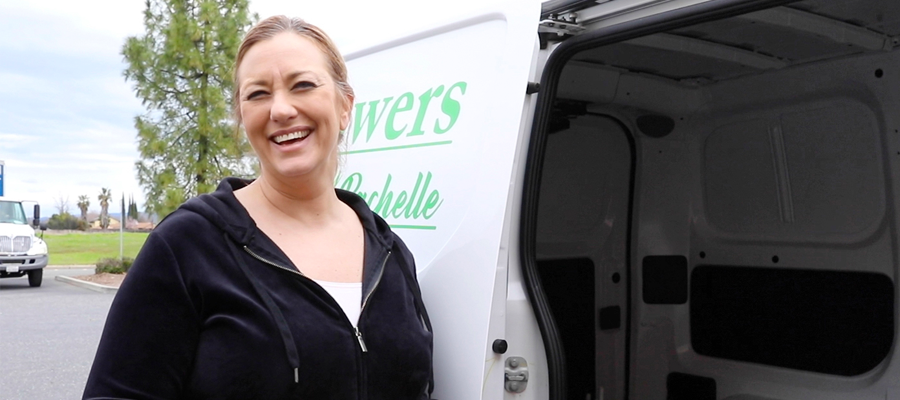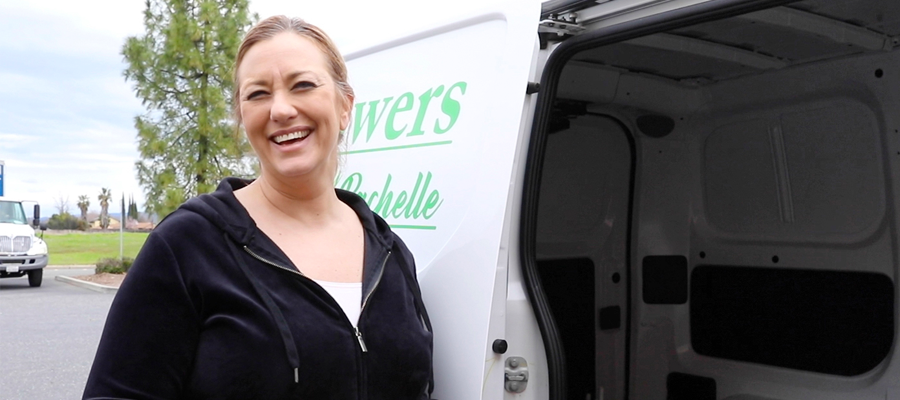 A Florist Compares her Nissan NV200 and Ford Transit Vans
Share
LinkedIn
Facebook
Email
Copy Link
We spoke with Rachelle of Flowers by Rachelle about the challenges her Nissan NV200 runs into during her day-to-day operations and how it compares to her previous Ford Transit, from fuel economy to the storage space for her invaluable floral cargo.
The Nissan NV200 was a slight reduction in roof height, but the fuel economy was well worth it.

Maximizing use of space and number of arrangements with a specialized peg system.

Rachelle felt the taller Ford Transit Connect was top-heavy.

She only utilizes racks sometimes and would like it to be easier for install and removal.
Q: Why did you choose a Nissan van for floral deliveries?
A: This is a Nissan NV200 and it's ... a 2018. Honestly, I just did some research as to just the best vehicles out there on the road at this point in time.
I researched gas mileage because this vehicle is on the road most of the day doing deliveries and things like that. Our delivery person is out and about all over the place doing deliveries. Of course, we wanted good gas mileage for around town--not just long-haul miles, because we don't do long-haul miles.
Q: Besides fuel economy, what else was important to you?
A: Another thing that was really important was a higher roof on the inside because if we have really tall arrangements, we need to be able to get them in there without them hitting the top. I actually wish I had a taller roof, but they're just aren't out there.
We originally had the Ford Transit because it did have a taller roof, but actually, when I did the measurements of it, the Ford transit only has a 2-inch higher roof. We weren't really gaining anything by trying to look for that. Then Ford stopped making the Transit in that way. They stopped making it with the taller roof unless you bought the larger van, and... those larger vans don't get the gas mileage. If I could get something that was taller in the back, that's a smaller vehicle with better gas mileage, that would be fabulous. But they just don't make that.
Q: What do you like about the NV200?
A: One of the things I do like about this — and the Ford Transit has it too — is that you can open it all the way. That's really nice when you're trying to get stuff in and then the doors aren't in the way, and both of the doors do that. The other nice thing is that you can actually open it from the inside, so if you're walking around from the inside to grab something you can actually do that.
Q: What do you wish the NV200 had to help floral deliveries?
A: I do wish it had windows. Though it does come with windows, the company gave me a better deal because they had this one on the lot without windows. It has a backup camera which does help with backing up.
Q: How do you transport your floral arrangements?
A: What we do inside the van is that we purchase this product from a floral industry company that created this peg system. They have pegs in all different sizes. Then we can peg around our arrangement so that we can get the maximum amount of arrangements in the vehicle at one point in time. We have the taller ones, the shorter ones, and then everything in between as well.
For wedding arrangements, the containers can be big. By the time you get the arrangement in here, it has nowhere to go. A lot of times we have to make them in two pieces so that we can put them together on-site to make them as large as we need to. Or, we'll add the taller flowers in on-site. We have to think about the way that we're making things before we can get to the site to be able to put them together.
Q: How do you safely handle many arrangements on a delivery?
A: One thing I do wish — because we have to make them ourselves, so to speak — is that if I have, say, a long distance to go and I have a whole bunch of centerpieces that are not very big. if I have to say, 50 of them, then I have to put in racks and have to bungee cord them in and things like that. I put racks in myself and have to kind of create them in that way.
Q: I see you don't have a partition between the cargo space and the cab. Any particular reason?
A: We don't have a partition becausewe're not carrying hazardous things. The stuff that we have is not going to fly in and hit you in the head should you stop soon. It's all usually lower things, so the partition isn't important in our industry--compared to if you were carrying computers or something that was heavier that can knock you in the back of the head.
Q: Why did you also choose a Ford Transit Connect van?
A: When I originally purchased the Ford Transit Connect, what I really liked about it was the higher top, and so I thought that it could handle some of our larger and taller arrangements. What I don't like about the vehicle--that I didn't realize it until I kind of drove on it--is that it feels when you drive it as though it's top-heavy. When you go around corners and things like that, you feel like there's a possibility of tipping. It doesn't have that weighted feel. You just feel like you're down deep in and it just kind of sways a little bit.
Q: In terms of cargo space, how do the NV200 and Ford Transit Connect compare?
A: The Ford is probably about the same as the Nissan for fuel. We use the same system in both vehicles to carry flowers with, the peg system because again the peg system can conform to any vehicle.
Again, I did wish that I had some sort of a rack feature in both of these, but, like I said, we just sort of made our own racks when we needed. The Ford Transit with the taller roof is only two inches taller than an average vehicle, so it gives you the impression of height without actually having the height.
Q: If you could change anything about your floral delivery vehicles, what would it be?
A: If I could wave a magic wand and make a perfect vehicle, of course, it would get fabulous gas mileage. It would be able to kind of combine some of the features. For example, the Nissan is a little bit higher up off the ground where I can actually feel like I'm on top of things. You have a little bit more command of the road. The Transit Connect is down deeper and you don't feel like you have as much command of the road around you. I like being up a little bit.
I wish there was a van that had a little bit more height in the back, that did have racks that were removable because we don't always want those racks in there; we only need them at certain times of the year.
Published on: August 16, 2019
NEXT ARTICLE
A Landscaper Relies on a Chevrolet 2500 Crew Cab