Hooklift Truck: Multi-Industry Machine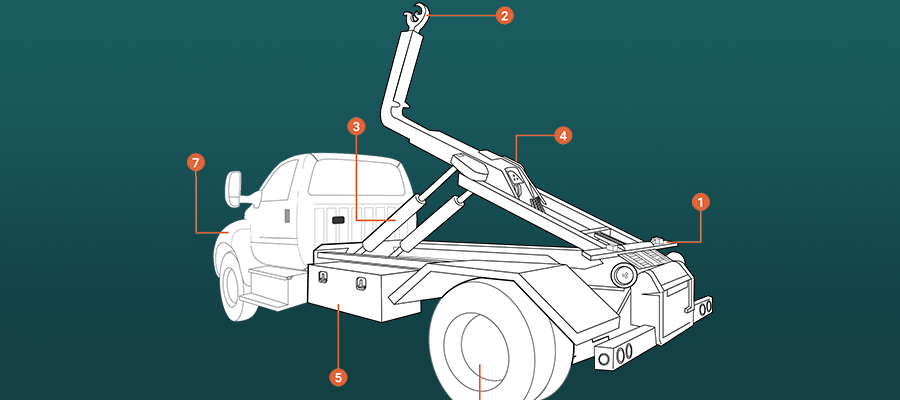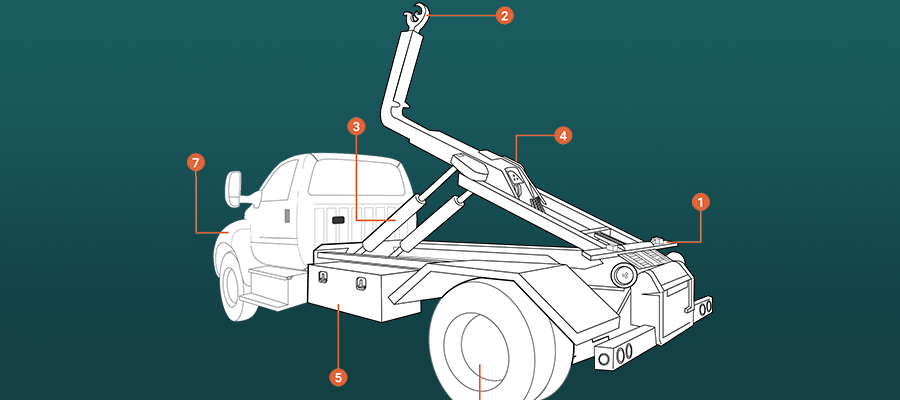 Hooklift Truck: Multi-Industry Machine
Share
LinkedIn
Facebook
Email
Copy Link
The hooklift truck, while known for its utility in the waste removal industry, also provides value in industries far beyond that of waste transport. Featuring a hydraulic-powered jib and hoisting system, the hooklift truck is built to power through a variety of operations while offering the user a hearty foundation for multiple truck bodies. We'll go through the cost-saving and operational benefits that this commercial vehicle provides in the sections detailed below.
The hooklift truck supports a variety of operations outside of waste removal.

The hooklift is operated by an interior, exterior, or remote control system.

Hydraulic systems differ between desired applications.

Side or underbody toolboxes are often supported for carrying additional equipment.

Most hooklift bodies require medium to heavy-duty chassis to safely support operation.
Body Style
To say that the hooklift truck serves one industry better than others would be a great disservice to the body style. Although it is well-renowned as a cornerstone within the waste removal industry, the powerful hydraulic hook system is capable of equipping an industry-specific body just as easily as you put on clothes. Not only does a quick one-to-two minute duty-cycle make the hooklift a productivity machine - but it also saves your operation money, with its versatile nature.
Business owners and fleet managers often purchase commercial vehicles that serve individual needs. A chipper body for a tree services business. A landscape body for a landscape business. But what if you pull the utility of several body styles and combine them into one multi-industry machine?
The hooklift truck can do exactly this, featuring the ability to jib-out, hook-up, and pull-on most industry-specific bodies, provided that the body has the proper hooking equipment to be pulled on board. When considering a truck that can support a variety of operations while also reducing maintenance and insurance costs across your fleet, the hooklift truck is the premier option.
Hooklift System
The hooklift system is operated by the interior, exterior, or remote controls, and a power source, often combined with a power take-off (PTO) system. Once the vehicle is powered, the hydraulic jib, hook, and prong-style locking system functions are individually controlled within the hooklift control station. In all control variations, the hooklift system first needs to be unlocked, either by jibbing out with slide-style models or by disengaging hydraulic securements in prong-style models. Once the hook is jibbed out and is a safe distance away from the cab, the operator can then use the hydraulic hoist control to move the hook in an arcing motion toward a container or body.
Once the hook is secured to said container or body, the hooklift, jibbing, and locking functions referenced above are then performed in reverse. The hook arcs upward with the container in tow, the container rolls onto the body, and the container slides into a secured position. Once jibbed in, the container stays put with a channeled or prong-style locking mechanism, providing safe transport to any final destination.
Click Here for More Information
Hydraulics and Load Capacity
Hooklift trucks can come equipped with several different hydraulic systems, depending on the desired application. Common models feature a low-pressure, high-volume hydraulic system, which is renowned for its ability to support multiple functions provided within one hydraulic motor and reservoir. In the case of the hooklift truck, these functions include the lateral jib movement, the arc hook movement and, in some models, the hydraulic prong securements. Hydraulic systems used by the hooklift truck are manufacturer-rated to a specific pressure allotment, which translates to the appropriate load capacity needed for your applications. Medium and heavy-duty hydraulic systems used within this commercial vehicle feature a load capacity of 8,000 to 68,000lbs, or 3,630 to 30,800kg.
Locking Mechanism
After your load has been safely placed upon the truck, transporting the load now becomes painless, sway-free, and instills confidence in your operators, through the use of a series of prong-style or slide-through locks. In the slide-through design, the container is as important in securing the load as the metal channels that lock the container or body into place are. Once pulled on board, the container or body's metal protrusions slide into place with jib motion. Additional hydraulic locks secure behind the load as well, ensuring that the container or body will not slide off of the hooklift body during transport.
In the prong-style design, the container or body is pulled on board just the same as it is with the slide-through models. The desired load is jibbed into a cab-forward position and, once in place, the operator locks the container down by engaging prong-style locks, controlled within the hooklift control module.
The arms that hold the load in place secure in a series of two or more metal prongs, located on the rear section of the hooklift truck's frame. The prongs, once engaged by your operator, lock onto the interior of the container or body's bottom metal protrusions, securing with outward hydraulic force, to keep your loads in place at all times, regardless of transport conditions.
Storage
When using a versatile commercial vehicle like the hooklift truck, you'll often be carrying a variety of gear with which to support your current operation. To this end, the hooklift truck supports the notions of versatility and security with a series of side or underbody-mounted toolboxes. These steel or aluminum toolboxes add utility to your operation in their rugged and spacious design, as well as a protective nature in the toolbox interior.
Hooklift toolbox size ranges with the length of the hooklift body, but frequently measures between 36"-48" long, and with a depth of around 16". These utilitarian compartments feature a coated interior space, which is organized by a series of shelves and protected by weatherproofing seals, in order to keep your gear organized by application - and free from rain, dust, and dirt. Most importantly, however, the toolboxes are all locked down by a series of three-contact locking systems, to ensure that no gear is ever removed without your operator's decision to do so.
Chassis
It is important to note that, due to operational requirements and weight restrictions dictated by hooklift manufacturers, most hooklift bodies require a medium to heavy-duty chassis, in order to safely support the hooklift operation. The hooklift will be lifting in upwards of 8,000lbs and requires the support of a heftier chassis in order to remain within and meet GVWR and warranty requirements, respectively.
Fuel Type
The hooklift truck models of today run predominantly on gasoline or diesel fuels. And although other options are available, gas and diesel each provide a level of fuel efficiency that is often better than that of alternatives. While alternative fuel sources may still come close in terms of efficiency, the vast availability of gas and diesel fueling stations throughout the U.S. and Canada also provide your operators with a seamless driving experience for the long-haul, unhindered by questions of fuel availability.
Published on: January 04, 2019