How to Choose the Right Cargo Van for Your Business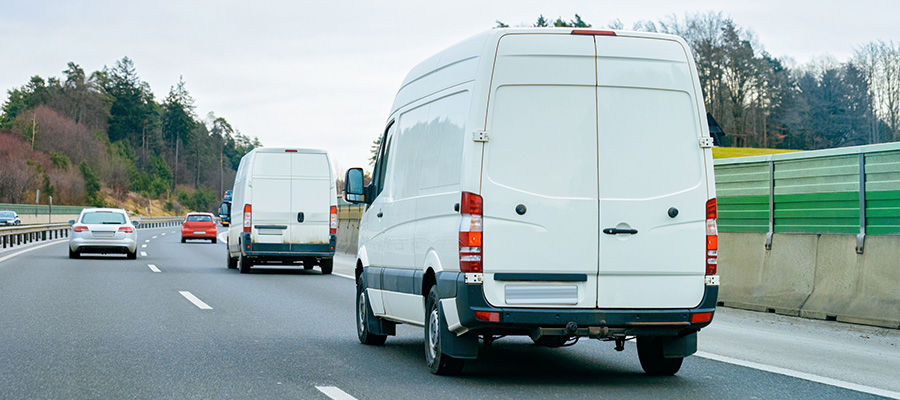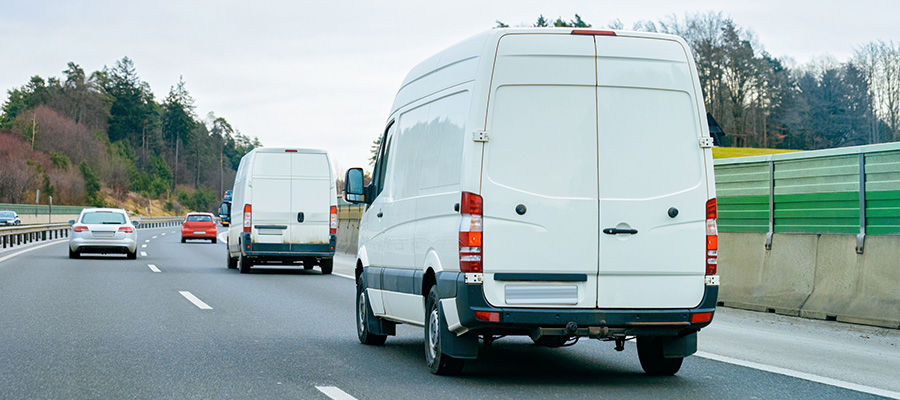 How to Choose the Right Cargo Van for Your Business
Share
LinkedIn
Facebook
Email
Copy Link
At some point in your business, buying a cargo van like the Sprinter, Transit, or Express work vans will be on your list. They're your most important tool, regardless of whether you're a fleet manager, plumber, catering service, delivery service, electrical, HVAC technician, or contractor.
Whether you buy a used cargo van or a new one depends on your budget, upfit needs, and expected mileage. But regardless of their miles, if you're an electrician hauling a full load of 12-2 spools or a refrigerated delivery driver, there are a few key factors that you should consider before buying your next used or new cargo van.
What You're Hauling/Transporting
As you're looking to buy a cargo van, considering your needs more than the miles you'll drive is essential. You'll have specific requirements and customization needs for an efficient company vehicle, depending on your business. It's a good idea to take some of your equipment with you when looking at a van since not all vans are the same size and configuration.
For example, are you a construction contractor who needs an extended wheelbase for long metal frames or wood? Can you get by with one side door, or would it be better with dual doors in the back? If you do deliveries, you'll want a tall roof, but is entry height critical? Lastly, can you make do with a used van that's been upfit, or do you  need to start from scratch? You'll need to assess your needs before buying your next cargo van.
Powertrain
Considering what you're hauling and how far it's going isn't only for the interior. Buying a cargo van that you can live with requires considering what's under the hood. For example, a small van with a gas-saving engine may sound good, but the engine works too hard once it's loaded up, and gas mileage drops.
For vehicle engine choices,  every manufacturer has options. For example, the 2022 Ram Promaster comes with the 3.6L V6 engine as its only option, but it's powerful and has a 9350 GVWR. In comparison, the Chevrolet Express Van comes with a standard 4.3L V6, but it's light on power at 276 hp and 298 lb-ft of torque. However, you also have the optional 2.8L DURAMAX turbo diesel that can tow up to 7000 lbs and the ultra-powerful 410 hp 6.6L V8 that can tow up to 10,000 lbs. So, as you can see, it pays to look around for power because every vehicle manufacturer has different options.
When you're routinely carrying heavy loads, you'll need the ability that only a large engine will have. So, make sure to get the most powerful engine available for the loads you'll carry.
Another thing to consider is the changing regulations on alternative fuels. By 2025, many states will require manufacturers to produce and sell battery-electric, hybrid, or fuel cell vehicles – especially in the commercial fleet market. For example, Ford's battery-electric E-Transit is now available in the same configurations as the gasoline-powered Transit. If battery-electric power fits you, the available incentives and infrastructure help may save you a considerable amount of money.
Features and Technology
While searching for a new cargo van, you'll find a fantastic amount of luxury, safety assists, and telematics to make your ownership better. For example, some vans now have onboard power for everything from phones to jackhammers. In addition, safety is improved with the same driver-assist technology as passenger cars.
Driver convenience is also essential, and cargo vans meet your needs like other passenger vehicles —capabilities like wireless charging, upgraded sound systems, Apple CarPlay and Android Auto are often standard. Additionally, overhead storage, multiple cup holders, and cubbies plus USBs that would even make parents happy.
Telematics such as the FORD PRO TELEMATICS system offer possibilities such as GPS fleet tracking, vehicle health alerts, driver behavior insights, and efficient route planning. Comfortability, safety, and profitable operation are essential considerations when looking at a new cargo van.

Wheelbase
Wheelbase ranks high on our cargo van need-to-know list due to most cargo van features depending on it. For example, increased storage capacity, turning radius, and ride comfort depend on the vehicle's wheelbase. And most manufacturers give you several options from which to choose. One example is the Ford Transit Connect XL Cargo Van, which lets you choose either its short (104.8") or long (120.6") wheelbase versions. 
When researching cargo vans, you will find some manufacturers that define their wheelbases as "standard," "medium," and "extended." Paying close attention to the specific lengths of the vehicles rather than the term used to describe the wheelbase length will make comparing makes and models far easier.
Roof Height
A cargo van is only as practical as the size of its cargo hold. Recognizing this, work van manufacturers introduced high roof cargo vans to their model lineups to remove the headaches that smaller, more cramped work vans caused. RAM demonstrates its efforts to provide cargo options for all industries in their Promaster series standard and high roof work vans. 
RAM modeled their Promaster Cargo Van and Promaster City Cargo Van lineups around the principle that specific industries need specific interior setups. With a wide range of available roof heights, from 51.8" in their Promaster City vans to a roomy 77.1" height in their high roof Promaster Cargo vans, RAM is a proactive member of the cargo van market. 
Manufacturers like RAM and Mercedes-Benz enjoy continued success in meeting multi-industry demand because of their diverse and insightful van sizing. So, it follows that selecting the "ideal" cargo van for your business relies on one key aspect: the materials your next cargo van needs to haul.
Storage Area and Floor Length
Cargo van manufacturers produce options well-suited for all lines of commercial work. That said, their "hard sell" to earn your business with advertisements like "Best in class cargo!" and "Longest cargo length on the market!" makes understanding the actual measurements of cargo area challenging to say the least.
When purchasing a cargo van, take a proactive approach and think about how the cargo floor-length of your top candidates will support your operation in the following years. 
To determine the useful cargo area, you'll need to take some measurements. To do that, begin measuring from where the cargo floor meets the front seats back to the rear doors or tailgate. This is your cargo floor length. Follow this with measurements from the back of both the driver's seat and headrest to the rear doors.
These measurements are your cargo length at the floor and belt, respectively. When looking for specifications of the various makes and models of cargo vans, you can find complete specifications under most manufacturer websites' "dimensions" or "specifications" section.
Shelving and Partitions
The options for shelving and storage solutions for otherwise empty cargo vans are abundant in today's work van market. Whether you're looking for a modular bin system or a thermoformed, windowed partition, there are many options from which to choose. 
A partition or bulkhead is an excellent investment in keeping your team safe, as cargo can shift during transport or when your driver makes a hard stop. Look at Knapheide Van Solutions for a durable, lightweight solution. 
Whether upfitting one drawer at a time or installing an entire shelving and storage package, Adrian Steel provides that classic steel appearance with a modern feel in its adjustable shelves, bins, and partitions.
It is crucial to consider both current and future needs when shopping for a new cargo van for your business. Wheelbase, roof height, usable cargo area, and available organizational accessories are vital points to consider for any van you add to your operation.
Other Considerations When Buying a Used Cargo Van
If you have the budget to purchase all-new commercial vehicles, it's a good start. But with today's inventory challenges, you'll likely want, or need, to check out used cargo vans as well.  
You'll also save money by letting someone else take the depreciation hit, but you're not totally in the clear. Although you'll want to look at the exterior to check for structural body integrity, possible damage, and rust, the more critical checks have to do with the engine, suspension, and brakes. With that in mind, let's discuss some things you'll need to consider when looking at used cargo vans.  
Startup the engine – Once you start the used cargo van engine, listen for any knocking or tapping noises. After a few minutes, rev the engine and make sure there's no blue, black, or white smoke which could mean trouble and a high repair bill. After shutting the engine off, remove the oil dipstick to check the color and consistency. If it's black, it hasn't had regular maintenance, which could mean the rest of the drivetrain has also been neglected.
Check out the suspension – If you're comfortable with the engine inspection, take the cargo van out for a test of the suspension. Although it's not going to feel like new, the shock absorbers should limit up and down movement. Ideally, the shocks should bounce once. If the front suspension makes you feel like you're in a bounce house, the shock absorbers need replacing. Also, check them for leaks or damage.
Test out the brakes – Of course, your used cargo van should have good brakes. If you're comfortable with the suspension tests, drive to an area where you can safely practice a panic stop. This lets you make sure it stops within an acceptable distance and in a straight line. If you hear any grinding or scraping noises, you're looking at a brake replacement. Although needing new brakes isn't necessarily a bad thing, it points to a possible lack of routine maintenance.
Have it checked by a trusted mechanic – Once you feel comfortable with your brief overview of the used cargo van, you need to visit a mechanic for a more detailed inspection. It will cost you a few hundred dollars but save you thousands of unexpected expenses. 
Get a CARFAX vehicle history report – All vehicles have a VIN (Vehicle Identification Number) and, you can check the used cargo van VIN you want to buy. A CARFAX report will give you a history of any maintenance, ownership, accidents plus where the damage happened, and recalls. A good seller will provide a CARFAX report to you at their cost, but you can quickly get one if the seller does not offer it.  
Buying a used or new cargo van doesn't need to be a stressful trip to the unknown. You can start yourself off on the right foot by reviewing the steps we discussed in this van buying guide and checking out reviews on current models. It also helps to choose a good seller with a sterling reputation and excellent model selection. Be confident that all your planning, patience, and research will locate the perfect cargo van for you. 
Published on: March 14, 2022
NEXT ARTICLE
The Top 5 Benefits of Vehicle Wraps for Advertising Your Business