International Truck New CV & MV Series - Setting a Standard for Service, Utility, Dump & Snow Plow Trucks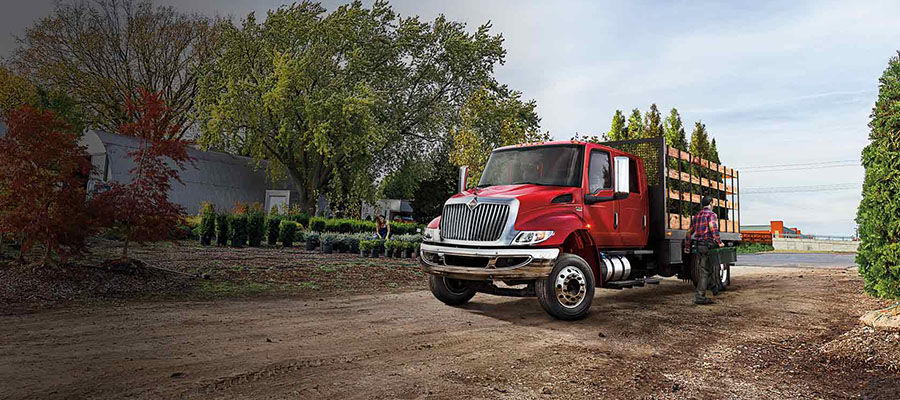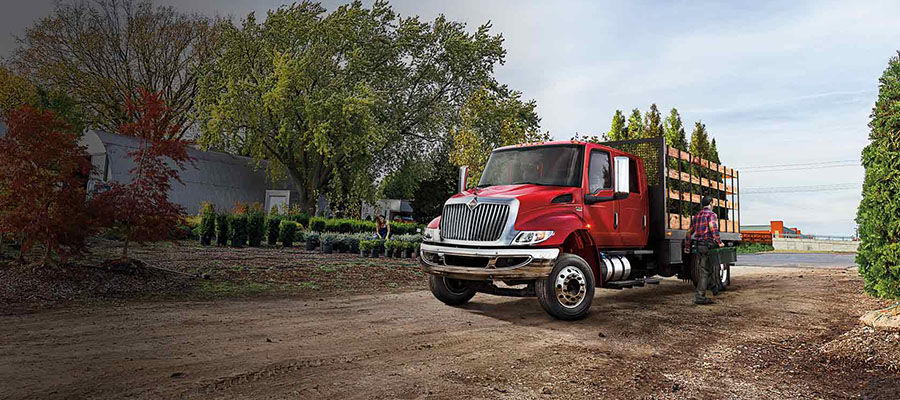 International Truck New CV & MV Series - Setting a Standard for Service, Utility, Dump & Snow Plow Trucks
Share
LinkedIn
Facebook
Email
Copy Link
International Truck has revamped its line of work trucks, and we're huge fans. This article will cover the features, configurations, and options in their medium-duty trucks from the CV Series and MV Series. We will also cover which vocations International Truck suggests for each series. Read our other articles on International Truck Severe Duty and Heavy Duty Series trucks.
International has the largest commercial dealer network in the US with 720 locations, making buying and servicing easy. They have a sales staff that knows commercial and can configure a truck for your needs. Their vocational engineering team can help design a custom configuration. Over 8,000 commercial diesel-trained technicians and over 7,600 service bays ready to keep you on the road.
Medium Duty Trucks
CV Series
The International Truck CV Series is one of the newest in International's impressive newly launched lineup. International has made the CV Series a serious contender for many businesses, with ease of upfitting a priority. The commercial grade class 4/5 work truck is perfect for many businesses, including landscaping, snow plow, service, utility, towing, delivery businesses, and many more.
The design of the CV Series is easily upfitted into the exact configuration you need. It has straight frame rails, multiple exhaust outlet options, multiple wheelbase configurations, and air ride rear suspension for comfort and height flexibility. A forward tilt hood makes maintenance easy on the International 6.6L 350hp, 700lb-ft torque engine. The Allison 6-speed transmission is one of the most reliable out there, and you can add an optional Meritor 4x4 gear-driven transfer case if your job sites are off the beaten path.
Safety is a big focus on all of the new International Truck series. The CV Series has a 50-degree wheel cut for maneuverability. Visibility is assisted with an available rearview camera and folding side mirrors with rear-facing LED lights to illuminate cargo. A commercial-grade Hydromax Braking System, Bosch split system with traction control, and four-channel ABS handle braking.
International's new DriverFirst interior is described as "automotive-like" and more comfortable, durable, and accessible for real working situations than previous International Truck interiors. The cloth seats are comfortable and made to handle high-wear, with three-across seating and under cushion storage. DriverFirst controls are designed to be operated while wearing gloves. The CV Series is the first in International's line to offer Apple CarPlay and Android Auto. Trailer brake controller, remote start, auto-dimming rearview mirror, floor-mounted center console, and built-in switch packs are other features that make life in the driver seat easier.
We're excited about International launching the CV Series, bringing all the tough features from their bigger trucks, giving more options for many more businesses. Download the full CV Series Brochure here.
MV Series
The MV Series is all-new, focused on offering a wide range of configurations, easy upfitting, technology enhancements with Diamond Logic, and recommended vocations that rely on consistent uptime.
The International MV Series is a new medium-duty work truck that offers many options for a range of applications: two Cummins engines are available, three cab sizes, and a choice of 4x2 or 6x4 axle configurations. The MV Series also offers many transmission options in manual, automated manual, and automatic from Eaton and Allison.
Like the CV Series, the MV Series is made to be upfitted. Virtually unlimited upfit capabilities are possible, and working direct with International engineers will save time and money by getting your truck upfitted to your specs during the production process. International can customize the mounting locations of air tanks, fuel tanks, battery boxes, and exhaust systems to best suit your application. Letting International handle the upfit means your entire truck, chassis, and upfit, are covered under the manufacturer's warranty.
The MV Series includes International's Diamond Logic electrical system, which "streamlines chassis and body equipment integration," according to International. You can program automated tasks, like controlling the differential locks based on speed, to keep equipment and crew safe and to improve efficiency.
With features to keep durability high and maintenance easy, International suggests the MV Series for vocations that rely on consistent uptime, such as delivery, towing, and businesses that use dump trucks or service trucks like construction or landscaping. High-strength, low-alloy (HSLA) reinforced, cold-rolled steel cab offers corrosion resistance, further enhanced by an electrostatically applied primer during the painting process. Under the 3-piece hood are translucent fluid reservoirs with tethered caps, all clearly labeled and accessed for quick service.
The MV Series is the configuration king for medium-duty trucks, and we suggest giving it a look when you need to upgrade. Download the full MV Series Brochure here.
Published on: December 30, 2020
PREVIOUS ARTICLE
International Truck New HV & HX Series - Severe Duty Trucks for Heavy Construction
NEXT ARTICLE
International Truck New LT & RH Series - Tractor Trucks Built for Drivers