A Pest Control Business Owner Carefully Chooses his Fleet Vehicles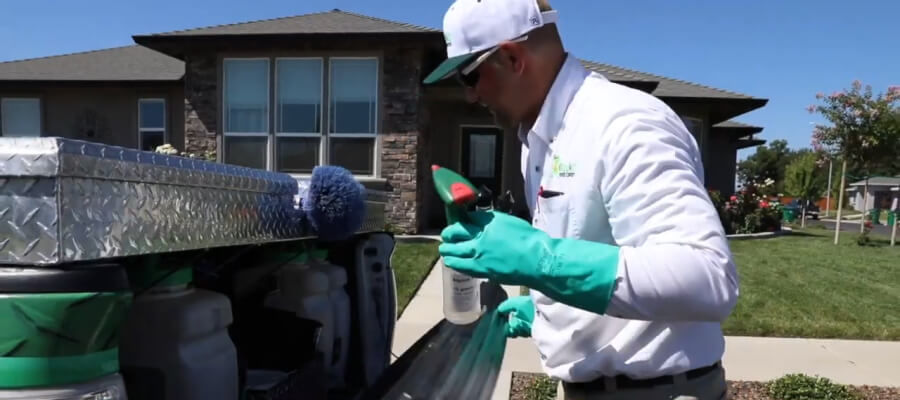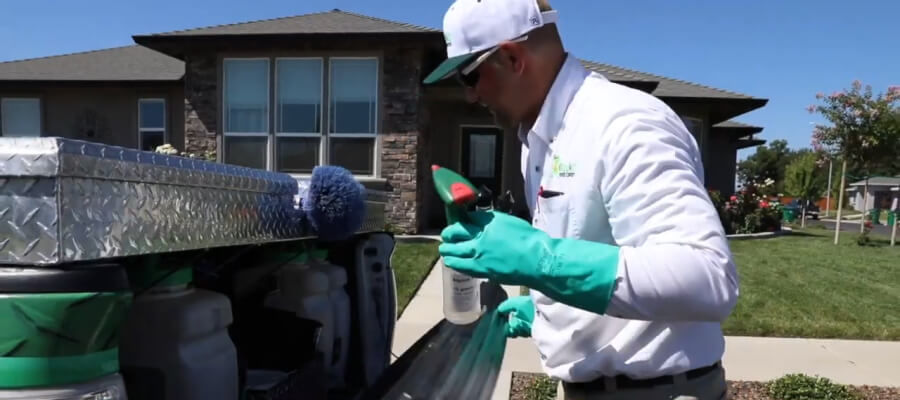 A Pest Control Business Owner Carefully Chooses his Fleet Vehicles
Share
LinkedIn
Facebook
Email
Copy Link
We interview Rich from Gecko Pest Control about his business's fleet of Ford F150 work trucks and how they provide the company's employees safety, organization, and the ability to get to jobs efficiently.
Custom accessories for the trucks for storage and easy organization.

A modern truck with modern features to provide both an easy and efficient experience for employees.

Rich says the vehicle wrap they display has been good for business, providing a lot of new contacts.
Q: What work trucks do you prefer for your pest control business?
A: You know I'm actually super picky on our trucks because I feel that if an employee is going to be out there working their tail off every day, that they need a worksite that works for them. A lot of people have maybe little trucks, mini trucks, single cab trucks, all these things, but we like big people to work for us--strong people--and we want people to be comfortable, and you can't do that in a little truck. We give them really nice trucks because we have the best employees in the industry.
Q: Are there specific things you get in your work trucks?
A: A few of the things that I like about trucks when I purchase them, everybody has their own idea of what's best, what's not. First off I always buy Ford V6's. They have better fuel efficiency, they do everything we need. They tend to hold up better, less wear and tear on the transmissions, less wear and tear on the brakes, less wear and tear on the tires.
If we have the truck that's completely efficient in giving people the tools they need to get the job done when they're there, they have more time to get job to job--without speeding, without riding someone's butt, without getting some person that could be a potential customer mad because we're shooting by them.
Q: What type of trucks do you use and why?
A: I use F-150 trucks with full-size beds because they're just more comfortable for employees and they give them more room to have accessories that help them get their job done. So, to begin with, power windows, power locks, they have a clicker, they can roll down the windows when they need to, it's just literally more comfortable.
As far as accessories on our truck, we literally custom make everything for our trucks. Not because we want to, it's 100s of hours to put this stuff together, but there's nothing on the open market that gives us what we need to actually support our technicians like we need to.
Q: What are the must-haves foryour truck upfit?
A: First we need lots of drawers, lots of compartments. You know, PPE (Personal Protection Equipment), in the pest control industry it's really important, in any industry it's really important. There's a dedicated area for it. In the back of the truck, you have deep things that can go all the way to the base of the truck. All this area in the truck bed provides storage, easy access, anybody needs anything, it's available.
Q: What type of storage is on the truck?
A: Behind the tailgate, there is a built-in drawer, we can get anything we need at any time. No one offers that in an industry like this, and it's just necessary to get the job done efficiently, which is the name of the game. We are also able to store other products for our industry like baits, glue traps in the truck beds. We also carry a vacuum with us on every service, all the equipment you need when you need it. All locked up, anytime you need to make sure that things are secured, make sure people don't get into things. It's just some of the things we do for our trucks, just to make sure that they're efficient and again, make the job easier for employees.
Q: You really value comfort for your employees. What other comforts and safety features do you look for?
A: Power windows, power locks. You know, if you unlock the passenger door and then every job you want to have your truck locked up, you literally have to walk around your truck all the time locking doors. It just seems like kind of a waste of time to just walk around your truck locking doors when you can be working and being efficient. Power windows, just because I like my guys, they're the best guys in the industry and I just like to take care of them. Another thing that I'm really really passionate about is Bluetooth connectivity.
It's a really small price to pay--a few hundred dollars--but if any of your technicians get in an accident because they're talking on the phone, you're losing a massive asset. Employees are huge assets to any company, and if you let one get injured because they didn't have something as simple as Bluetooth connectivity, it just doesn't make sense to me. It's small things but it's big in the whole scope of the real goal and that's happy customers, happy employees.
Q: Do you get responses to your work truck advertising wraps?
A: We do actually have a lot of people call and say they saw our truck. It's memorable and because of the design elements where it gives interest with the background, the lizard, and then it just shows up very big and strong who we are, people remember it. I even talk to people in the street and say "Oh Gecko Pest Control I don't know if you've heard of it." And the first thing most people say is, "I saw your truck. I've seen your trucks, in my neighborhood." And what that does is they remember so when they are looking for pest control service for their home.
Published on: September 11, 2019