"Under the Hood" - Q&A with a Heavy Equipment Company's Mechanics Truck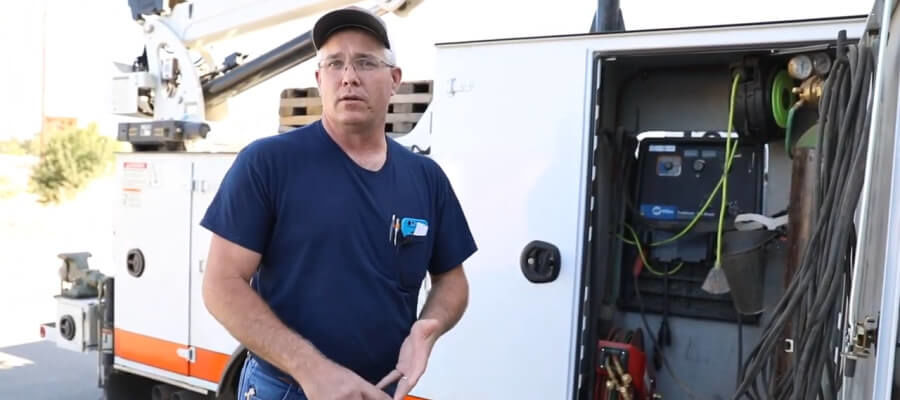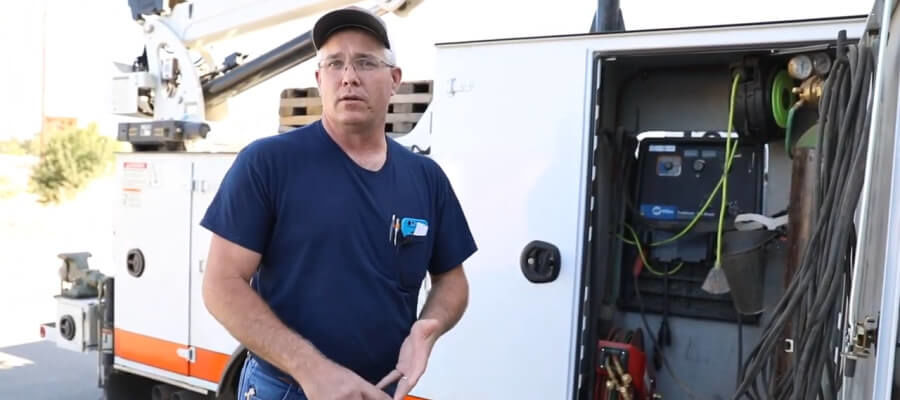 "Under the Hood" - Q&A with a Heavy Equipment Company's Mechanics Truck
Share
LinkedIn
Facebook
Email
Copy Link
We interview John of Knife River Construction about his work truck. His truck is packed for a mechanic to support a wide assortment of work, utilizing storage compartments, a 7,500 pound crane lift, and a diesel engine to help with the heavy lifting.
John discusses his Ford F550 truck spec'd out by Ford and with an IMT body to fit the needs of a mechanic.

Fit for heavy loads with storage compartments and drawers, the body of this truck pushes mechanics to stay one step ahead, prepared for almost any job.

To maintain safe transport, he requires his vehicles for weight checks to follow federal regulations.

This truck is small to get around easily at any job.
Q: Tell me about your heavy equipment company
A: I work for Knife River Construction. I've been with the company for about six years now. We do civil engineering, heavy and highway construction, overlays, dirt work, asphalt oil. We're big into batch plants, cement, construction. We deliver, we have a lot of mixer trucks. We probably have a fleet of 55 right now.
Q: Tell us about this Ford mechanics truck
A: This is a 2018 Ford F-550 truck. The truck is spec'd out to our standard spec. It's got an electronic trailer brake setup and the power package so it's got power mirrors, air conditioning, it's got sync radio so the guys can use hands-free on their phones and things like that. It's got rubber floor mats. Just because we are in a construction environment, it doesn't have all the bells and whistles but gets the job done.
We do run the diesel. The reason we run the diesel is one for the power and the economy we get. We pull a lot of weight. You get a better GVW with the pulling a trailer versus a gas engine, so we like having that availability. We did spec this truck with an IMT body, it's got a 7,500-pound crane.
Q: Who did the specs for this Ford truck?
A: This truck was spec'd out from Ford. We bought the chassis cab separate from the utility bed. We spec'd it through a local dealer. We try to depend on local dealers because we want the service. Once the truck was spec'd, we had it drop-shipped to the manufacturer of the body and this body was actually built by IMT. Southwest products actually installed it on our cab and chassis and then we took delivery of it after that.
Q: What was the cost of this work truck?
A: This is probably a $150,000 item. The truck is probably around $60,000, and then the bed is probably another 90 to 100 grand depending on what options you get with it. Me being a mechanic previously, I try and spec them with everything I think the mechanic is going to need to do his job.
Q: Do you have accessories for in the field?
A: It's got a welder in the back. It's a 300-amp Miller, that's what we like running. It's come set up, it's got the torches, it's got the leads, everything the mechanic needs to do his job. Basically this is a mobile shop. When these guys roll out onto the job it's because equipment is down and it's an emergency situation. In our eyes, they like to carry parts, try and be one step ahead and take care of it and get the equipment back up and running.
Q: What is the large back bumper used for?
A: We call this a beavertail. Simply, it's just a widened bumper on the rear of the truck. We use it as a work area. It's a pretty thick piece of steel. Sometimes we're fabricating or we're trying to straighten something. So, you like having a solid workbench to work off of so things aren't rattling around. This one is set up with a fuel tank. This truck was going out to remote locations and taking care of a small fleet of equipment. So, he's got fuel, he got grease, and he would carry jugs of oil if he needed it.
Q: Where do you store tools?
A: There is a set of drawers inside one of the doors on the body. Inside there is a set of drawers for organizing and keeping their tools. I don't think there's anything in here but your screwdrivers, your end wrenches, your socket sets, your tap and dies, gauges, your multimeter, anything you would need when you're out working on a piece of equipment that you might possibly think you need to get it up and going.
Q: Where is more storage available on the truck?
A: I call it a top box. It's basically just more storage on the truck. Like I said we keep spare parts, hoses, just anything you can think of that would pertain to our fleet that we know is a consumable item to get it back up and going. There is a compressor on the top of the body, it's probably a 40 CFM so it will run everything up to a one-inch drive impact gun. Runs all our air tools. We air up tires, when we're doing tire work, anything blowing out air filters, stuff of that nature.
Q: Is it easy to overload this truck?
A: I guess we can characterize this as a specialty piece of equipment, this is for a mechanic. He has got the air compressor, he's got the crane, he's got the welder, the torches, everything. This is as close you're going to get to a mobile shop.
I'm a mechanic myself, we're all hoarders and packrats. If we think we're going to need it, we've got it on the truck. And I'm constantly on these guys to make sure they're rolling across the scales every now and then to make sure they are not overweight because we have to adhere to the federal highway laws. This truck is rated at 19,500 GVW. So, I'm always on them to make sure once a week they are rolling across scales because it never fails, we go out to a job and they think "Oh I'm going to need this chunk of plate because I need to put something on a motor grader" or "I need these teeth to put them on the backhoe or the excavator." And before you know it, you got a load of stuff and you're 20,000 pounds, you're overweight. That can cause a lot of problems.
So, we're trying to be safe at what we do, but we're trying to also make sure we have everything we need to go do our job and fix our equipment. This truck exists because we have to get out there to our fleet and get it back up and going in a timely fashion.
Q: Does this size of a truck suit your needs?
A: We have bigger trucks. This truck fits our needs here. It's small, it gets around quick. Probably doesn't carry as much as some of the bigger trucks, but he really watches the paving spreads and every once in a while we'll get out to some of the dirt crews, but this truck is built basically for a pavement spread. He's watching a pick-up machine, a shuttle buggy, and the pavers and the rollers so he really doesn't need a whole lot, but he needs to be small enough that he can get around the job and the functionality of this truck fits that style of work.
Published on: September 24, 2019
PREVIOUS ARTICLE
Gas vs. Diesel Engines - Pick the Right Fuel Type for your Business Need