A Ram ProMaster Work Van Keeps this Plumber Ready for Any Job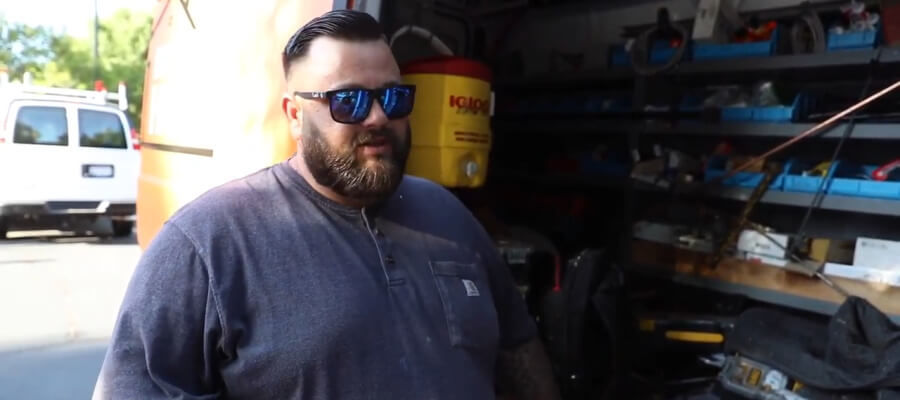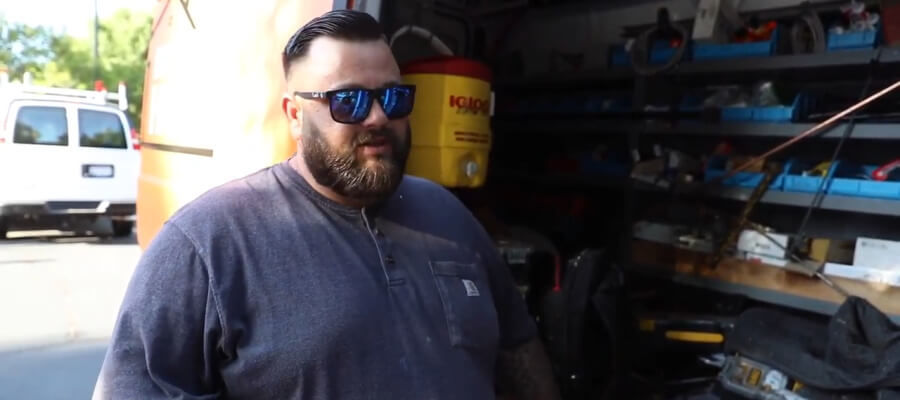 A Ram ProMaster Work Van Keeps this Plumber Ready for Any Job
Share
LinkedIn
Facebook
Email
Copy Link
We interview Clayton from The Hignell Companies on his work van, what he likes most about it and how he uses different storage options.
Though satisfied with fuel economy, there are a few things he would change if he could with his van.

He has space to strap up a water heater without laying it down, making it easier to avoid unnecessary risks.

Small organizers help him for the job with materials like galvanized fittings and PVC.
Q: What do you like most about your work van?
A: What I like most about the Ram ProMaster is the fact that you can stand up on the inside. So, when the weather is bad, raining, and you just want to get out of the elements for a minute, you're able to get in there, stand up. It's easy to get to my tools, you know I don't have to crawl around for stuff, so that's probably the best part about this van.
Q: How is this van's fuel economy?
A: The gas mileage is great actually. I commute 20 miles every day, you know twice a day. So, I have to fill up usually once a week.
Q: What would you like to change about your van?
A: What I don't like very much is the fact that I feel like I'm sitting over the steering wheel. It's very awkward when you first start driving it because you're right over the top of the front wheels and it feels a little wobbly, so it takes some getting used to. The utility bed type doors on the side would be nice, and I've seen vans similar to that.
Q: What do you think about the van's towing ability and hitch?
A: I wish it had a better towing capacity. It is a front-wheel-drive so it doesn't pull anything too heavy. I've pulled a plumbing trailer, I've pulled a Ditch Witch, and a dump trailer. I mean it will pull, but I would like a little more 'umph' to it. They have the hitches that step up, the ditch witch has to have a special raised hitch, I would like to have one of those but anything else it's good.
Q: What do you use the shelving in the van for?
A: I keep everything on my shelves from tools to parts, materials, fittings, hoses, pipe...everything. Everything I need so when I get a service call, I have it in here. The only thing I don't carry is a snake, that's because we have a trailer for that.
Q: Are you able to keep tools organized and quickly accessible?
A: I've been on several jobs at a very fast pace and even though it's a little bit of a mess right now, I am still able to pull stuff out, find stuff fairly quickly and still be efficient with my time.
Q: Aside from the shelving, what other features of this van help you store and transport your equipment?
A: I can strap a water heater in the back standing up. So, we don't have to lay them down. It prevents them from being dented or dinged up. It has drawers in there too. That's nice to keep wire nuts and stuff that we have to wire up dishwashers with, smaller tools, screws, nuts, washers, bolts... stuff like that.
Q: How do you secure all of your small fittings and components?
A: The van has small parts organizers that I have all my new construction fittings in. If I'm doing a remodel it is nice because it has all my copper, pipes, PVC, gas fittings, galvanized fittings. I just pack the organizers with me when I go to an apartment unit or I go to a job. I just pull the organizers out and roll them with me.
Q: How do you secure pipes inside the van?
A: We rigged up some ratchet strap material with a piece of ABS to hold short sections of pipe. So, that way I can just keep it up and I'm not tripping over all the time.
Q: What are your thoughts on the van partition?
A: The partition is great, but there's a lot of rattling and a lot of noise for sure. I wish it was a little insulated and closed off. I don't need to see in the back of the vehicle because I can't see out the back anyways. It's there for protection and I understand that. The only good thing about it is that I get to hang my hoses on my Husky straps on it and they stay kind of out of the way.
Published on: September 24, 2019
NEXT ARTICLE
An Excavation Business VP Shares his Process for Purchasing Fleet Trucks