Rollback Tow Truck: What Are They & How Do They Work?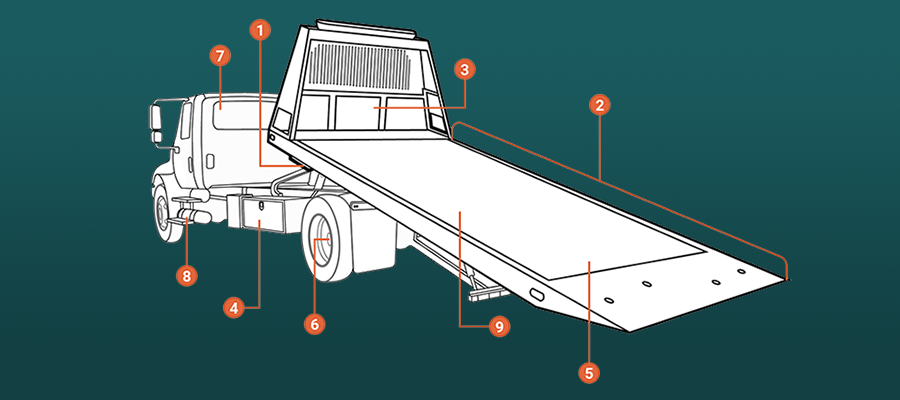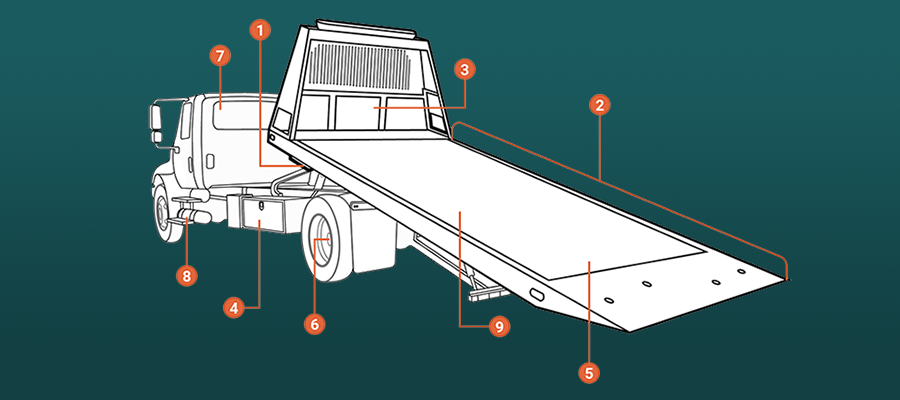 Rollback Tow Truck: What Are They & How Do They Work?
Share
LinkedIn
Facebook
Email
Copy Link
Table of Contents
Here's what determines how a rollback is used:
What is a Rollback Tow Truck?
The rollback tow truck lies at the heart of many successful operations in a variety of vocations that tow and haul. The rollback tow truck, or "rollback" for short, serves these operations handily. It got its name because the entire back of the truck is fitted with a truck bed that can be hydraulically inclined and slid back to ground level by using an adjustable deck and hydraulic system, and a resilient winch and hook. They also feature a centralized control station, for added convenience. Below, we'll dive into the details of the rollback, and clarify the critical aspects of buying any new or used rollback truck.
How to Use a Rollback Tow Truck
Rollback tow trucks have many components to how they are used. Essentially, compared to their counterpart tow trucks like a wrecker or a hook-and-chain truck, rollbacks are a safe towing option that are great for freeway driving. So how do they work? With features like control stations and winches, and body style options like chassis type and storage capabilities, here's some of the basics on rollback truck operations!
Control Station
The rollback truck's control station serves to mobilize the rollback deck in several functions. These functions include moving the deck away from and toward the cab, or jibbing, raising and lowering the deck to the desired angle, and releasing or winding the winch to secure vehicles once on deck. Each of these operations features individual control through a function-dedicated button or lever located within the side-mounted deck control station.
Body Length
Making sure to choose the proper rollback body length is going to add some serious value to your towing business or fleet. Rollback trucks enable your operation to take most any calls or requests without question, due to their all-encompassing nature of your operation's appropriate body length.
With most common rollback truck body lengths measuring in at 19, 20, 21, and 22 feet, the rollback provides ample space for most car and truck models, while still leaving room for your gear and securement accessories.
The Winch
The tow truck business tends to revolve around two types of vehicles: the somewhat mobile, and the unfortunate, "please don't drive me any further" types. The rollback's winch really comes in handy when you're presented with the more "stubborn" nature of the latter.
The winch is floor-mounted before the headache rack on the frontmost section of the rollback deck and features a small construction in order to ensure ample room for vehicles and equipment. Once powered, a series of two levers can wind or release the winch to pull loads on board.
Storage Options
Though presented as a towing master, the rollback tow truck also offers further utility for its users in the form of built-in toolboxes and storage bins. In most models, toolboxes tend to feature installation in under-body, side-mount configurations. These toolboxes feature plenty of cargo space, with a solid steel or aluminum construction, and are even further supported by OEM-grade weather sealants and a secure, three-contact locking system.
Storage bins are often placed in recessed areas on either side of the winch, along the base of the headache rack. Once fitted, these storage bins provide enough space for housing hooked ratchet-strap assemblies, as well as D-ring nylon straps, to make sure that your loads are secure.
>
Click Here for More Information
Rollback Material Types
Steel rollback bodies enjoy their strong build, durable nature, and can serve operations year after year, with continued and proactive maintenance. You will need to work to ding or dent the steel rollback deck. Steel, though resilient when maintained, is heavy, and may rust without the proper coatings and upkeep.
Aluminum rollback bodies are not comprised of pure aluminum, although they are often mistaken as such. Aluminum bodies are made up of about 95-97% pure aluminum, with copper, zinc, chromium, and titanium (or a combination of these metals) making up the "loose change." This final alloyed composition produces a stronger material, however, and provides an increased level of durability compared to that of pure aluminum itself. Aluminum alloys are also corrosion and rust-resistant, but they do suffer from stress fractures more often
Rollback Chassis Types
When considering the many operational benefits a rollback truck can offer, it is also crucial to understand that rollback body installation requires a medium to heavy-duty chassis. Most tow truck calls will be requests to load, secure, and transport a vehicle, most of which will weigh upwards of 1,500lbs. Factor in the weight of your respective rollback body, and it quickly becomes clear that most light-duty trucks aren't up to the task.
Selecting the proper chassis type, then, will maximize the value of your rollback body, while at the same time minimizing maintenance costs. Furthermore, medium and heavy-duty trucks also have a far lower chance of overloading, which could void your vehicle's warranty.
Cab Types
Preparedness is a common consideration when discussing a rollback body truck. And while it pays to be ready to haul any vehicle or piece of equipment on the deck, accommodating passengers is also an important factor to weigh, as you begin researching rollback trucks.
When towing someone's car or bringing along an operator for the machinery you're hauling on the rollback deck, a crew or extended cab can serve to add some extra elbow-room, and show your customers that you've already thought of them long before they'd ever requested your services.
Fuel Options for Your Rollback
Most rollback trucks, and the respective manufacturer that built the chassis, support gasoline and diesel-fueled options. Rollback trucks focus on the use of gas and diesel engines - due to the broad availability of these fuel sources, the average fuel efficiency enjoyed by both gas and diesel, and the limited space for additional tanks required by some alternative fuel sources.
Rollback Body Deck
The rollback body deck is easily the most-identified feature of the rollback truck. Comprised of steel or aluminum, the deck serves as the transporting platform for many vehicles and equipment, in any mobile or immobile state. Upon closer inspection of the deck, you'll notice a series of hollow, shaped areas that support hooked ratchet straps and chain securements.
Published on: January 04, 2019