Sean Witt's 1964 Chevy C10 Service Body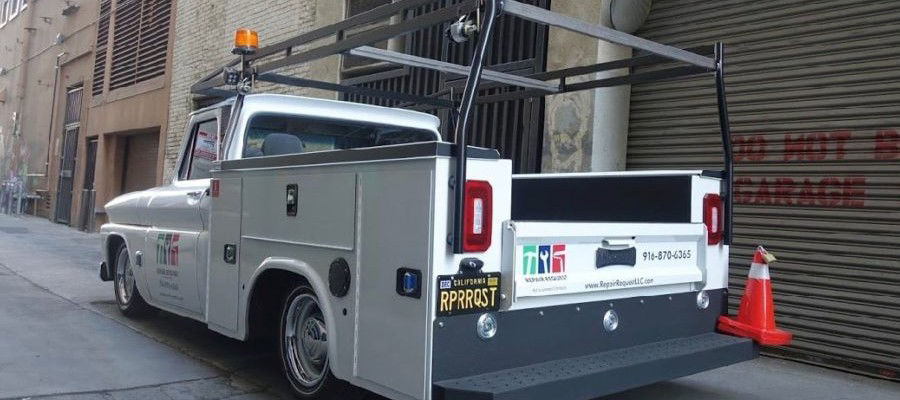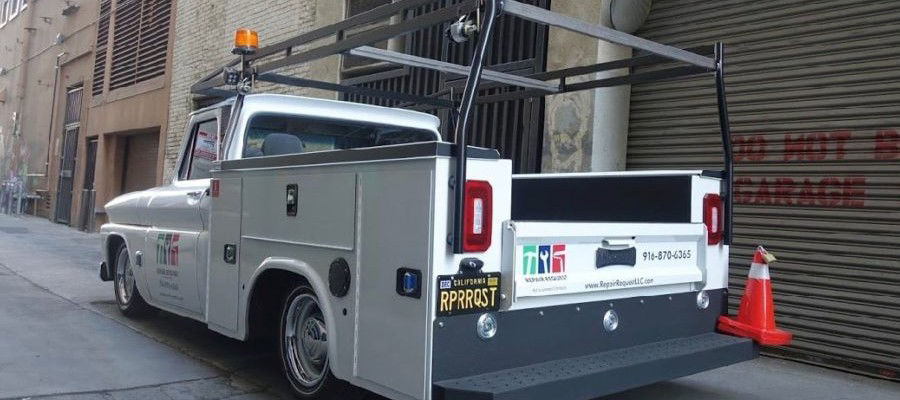 Sean Witt's 1964 Chevy C10 Service Body
Share
LinkedIn
Facebook
Email
Copy Link
"IT'S ONE OF THE MORE UNIQUE UPFITS WE'VE SEEN IN RECENT HISTORY. SEAN WITT'S 1964 CHEVY C10 SERVICE BODY IS A REAL HEAD-TURNER." -Knapheide
On October 5th, 2020, Knapheide posted a blog post on their website titled, Sean Witt's 1964 Chevy C10 Service Body. Sean Witt had built a custom service body truck from a 1964 Chevy C10 he had purchased from a friend, rather than purchasing a run-of-the-mill, new work truck from a dealer. He uses it for his own business, Repair Request, LLC, which is a handyman business located in the Sacramento and Elk Grove, California areas. 
Shortly after Knapheide had posted their blog, we shared Sean's truck on our Facebook page. As of February 10, 2021, our post has reached over 550,000 people, and has thousands of reactions and comments. In November of 2020, we reached out via email to Sean about his truck, and we were able to ask him some questions about his truck and his business. He responded with some great answers and information for us, as well as more photos of his custom service body truck and a photo of the truck he was using while the service body truck was being built.
Q & A
   Q. What is your work truck info - year, model, engine, suspension and any other information about it you'd like to let our audience know?
A. "My truck is a 1964 Chevy C10 with a vortec 350 engine, rebuilt suspension with 3" lowering springs, rewired bumper to bumper, new Vintage Air heating and cooling system, power disc brakes all around, Fitech fuel injection throttle body, Ididit steering column, Dakota digital gauges, all new glass, and a custom made lumber rack."
   Q. How long did it take to finish from the day you purchased to where it is now?
A. "It took a year and a half for me to finish the truck."
   Q. What motivated you to take on a work truck project like this? Did marketing of your business come into play?
A. "I was motivated to take this work truck project because I did not want to spend a large sum of money on a truck like everyone else had. For $20,000, I was able to put together a truck with all the bells and whistles I wanted and that was like no other truck around. Best thing, no smog, $103 registration, and the resale value which is around $35,000. Originally, I wasn't thinking about the fact that the truck would be a good marketing tool, but it definitely has received a lot of attention and led to business in return."
   Q. Do you have other "regular" work trucks you use for your business, or did you have before this one? If so, what are they?
A. "Before I completed the 1964 Chevy C10, I used my 1965 Chevy C10 that is more of a show vehicle that I have had since I was 16 years old."
   Q. Do you have any tips for others if they want to do a similar build? Things you would have done differently or still want to do?
A. "I would have bought a longbed truck because I had to special order the service body for my shortbed from Knapheide and wait a long period of time (27 weeks)  for it to be delivered. If I had purchased a longbed truck, Knapheide has service bodies for those readily available."
   Q. What is your business, service area, and how long have you been in it?
A. "My business is called Repair Request LLC which is a handyman business. I mainly service Realtors. After the home inspection, if repairs are needed, they place the work to be done on a Repair Request form. I also do work for residential and a few commercial companies. I have had this business for almost three years. I service the areas of Elk Grove and Sacramento, California."
   Q. How can people reach out to you if they would like to hire your business?
A. "If people would like to contact me about work they can go to my website RepairRequestLLC.com."
   Q. What made you get into your business?
A. "The reason I got into the handyman business was because, after being a facilities manager for most of my life, I received many requests from family to help with their home repairs. As I began to receive referrals to friends of family, I decided it was best to start a business that was licensed and insured."
   Q. Do you have any overall growth goals and timelines for your business?
A. "Eventually I hope to obtain my California Contractor's License for painting and interior decorating."
   Q. Do you have any business tips for others in your line of work?
A. "The best business tip I can offer is, Keep your vision in sight. Your vision will take you far...."
   Q. Any shout outs to give?
A. "I would like to give shout outs to Beau Becraft the Digital Marketing and Communications Specialist at Knapheide (for highlighting my truck), Scott Stiles of Stiles Truck Body & Equipment, Inc. (for helping me locate a bed that would properly fit my truck), and my mechanic Patrick Rakus of PMR Auto & Fabricating, LLC (for most of the mechanical work on the truck, fitting the Knapheide service body on the truck, fabricating the custom lumber rack, and so much more)."
   Thank you, Sean, for providing us with this great information, photos, and shout outs. We wish you the best of luck with your truck and your business. 
Published on: March 22, 2021
NEXT ARTICLE
International Truck New HV & HX Series - Severe Duty Trucks for Heavy Construction