Service and Utility Truck: Convenience and Security in an Organized Package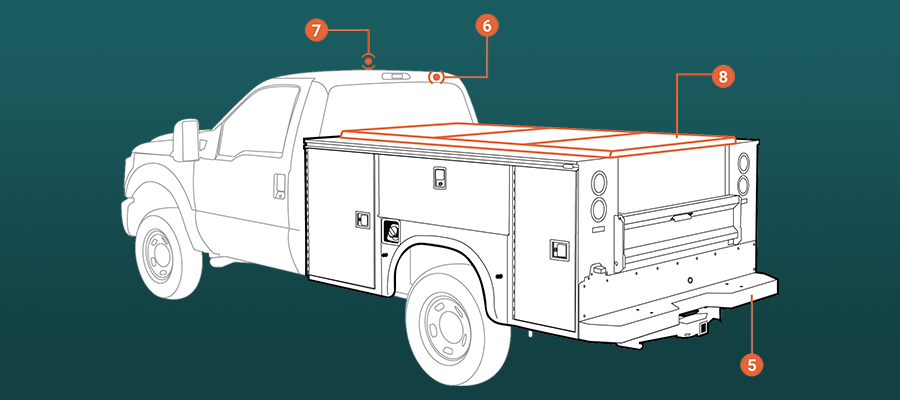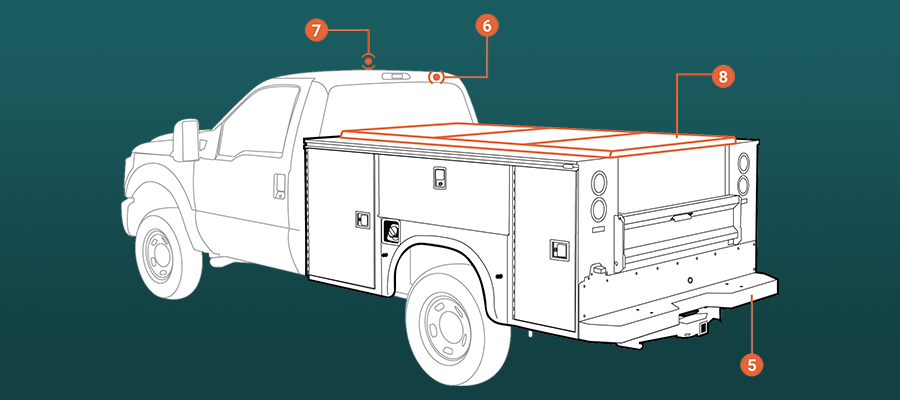 Service and Utility Truck: Convenience and Security in an Organized Package
Share
LinkedIn
Facebook
Email
Copy Link
Service and utility trucks are a common commercial vehicle throughout a variety of industries due to their optimized storage capacity and convenience. Both service and utility trucks begin as a bare chassis cab or pickup box. Once you've proceeded to your preferred upfitter post-purchase for body installation, your consultation with an upfitter will cover the benefits of a variety of options, such as materials, dimensions, storage components, and other accessories for ensuring that your service truck functions precisely how you see fit.
Dimensions
A few critical dimensions will work to establish a baseline for what your service or utility truck can handle. These dimensions include wheelbase length, as well as cab-to-axle length, and lay the groundwork for any aftermarket upfit installation.
Wheelbase length is defined as the distance between the front and rear-most axles on any vehicle, and directly impacts the number of upfit styles that are available for a particular model. Noteworthy chassis cab or pickup truck manufacturers offer an array of wheelbase options to ensure that your choice upfit adds significant support to your operation.
Cab-to-axle length is defined as the distance between the rearmost section of the exterior of the cab and the truck or van's rearmost axle. Cab-to-axle length also impacts the amount of usable upfit space available to you when installing a service or utility body upfit. In order to assist in the ease of installation, body and upfit manufacturers operate on a series of standardized cab-to-axle lengths to support most OEM models.
Cargo Area
The cargo area in a service truck or utility truck provides an assortment of sought-after storage options that most owners will seek out when looking into purchasing a new commercial vehicle. Most upfitters are going to offer service and utility bodies that are covered with roomy compartments and an interior cargo area width of 48" or greater. This extra interior space allows you to easily organize tools and bulky vocation-specific components within the open bed space, while still being able to make efficient use of your additional storage compartments.
Hitch
Service and utility trucks also feature powerful towing capacities and welcome a great variety of hitch installations. Both service and utility trucks support many styles of hitches, including receiver and weight distribution configurations. Installed just behind the rearmost axle, service and utility trucks provide a quick connection in their various hitch types and allow you to tug along any trailer within manufacturer-specified weight ratings.
Click Here for More Information
Storage
Storage options and accessories serve as the high point of any service and utility truck. Compartments, paired with interior shelving, provide an extremely organized and secure method for storing all kinds of tools and materials. When you have interior shelving units lining the side-mounted compartment walls, sheltering all of your gear from adverse driving conditions and keeping it in place has truly never been easier.
Service and utility bodies also provide excellent preparation for adverse work conditions. In situations where night work is required, the interior cabinet lighting along each compartment affords exceptional visibility without having to access your phone's flashlight. Once the workday is complete, stowing your equipment becomes painless, with a separate one-button locking system controlling the entire series of compartment locks.
Bumper
Service and utility trucks generally feature a bumper constructed from the same material as the body, but additional pieces of sheet metal or rubberized compounds are also available. Varying in dimension, some upfit manufacturers offer additional lengths and widths for their bumpers. In cases where continuous access to the service truck bed is required, a steel stepladder mounted on either side of the bumper and paired with a steel access handle can serve to greatly reduce strain and increase safety.
Lights
Service trucks and utility trucks are optimized to allow you to work at any time, in any place, and with a wide variety of lighting configurations. Lined directly into your truck's electrical system, additional light bars and work lights allow you to work through the night without ever losing visibility. These are particularly useful in the enclosed service bodies, where nocturnal members of the commercial industries would have a hard time finding tools and equipment. Forego the flashlights - service truck lighting provides your team with a hands-free lighting system, to make cargo access and off-hours work a non-issue.
Utility Rack
The utility rack delivers ample storage space for all items that are deemed "too long" for the service or utility body. In open-bed service truck configurations, the utility rack fastens on either side of the bed with a series of four or more supporting beams, providing overhead storage for longer equipment. This simple and cost-effective addition keeps your ladders and lengthy materials out of the way when storing or searching for your tools and equipment.
And for those of you who prefer the fully-enclosed option (as opposed to an open bed), the utility racks install easily along the top of the enclosed service body. Once installed, the utility rack can support multiple ladders, pipes, and other lengthy materials, leaving your cargo area open for power tools and other bulky equipment.
Retractable Cover
Locking compartments and storage areas of the service and utility truck serve as a protective home for tools and equipment. But what about the bulky and, at times, expensive tools that are left exposed within open sections of the cargo area? Manual or electric retractable metal covers will remedy any concern over thieving hands or adverse weather conditions. The retractable cover simply pulls out from the cab side of the truck bed and covers the full length and width of the open cargo area. Lock it, leave it, and come back to find your tools exactly as you left them.
Published on: January 04, 2019
PREVIOUS ARTICLE
Tree Trimming Trucks with Reliable Roots - Top 5 Work Trucks for Arborists