Should I Install EV Charging Stations at My Business?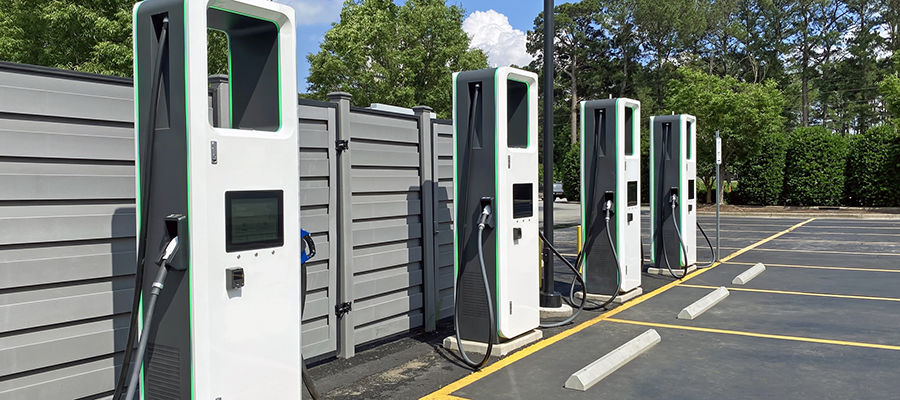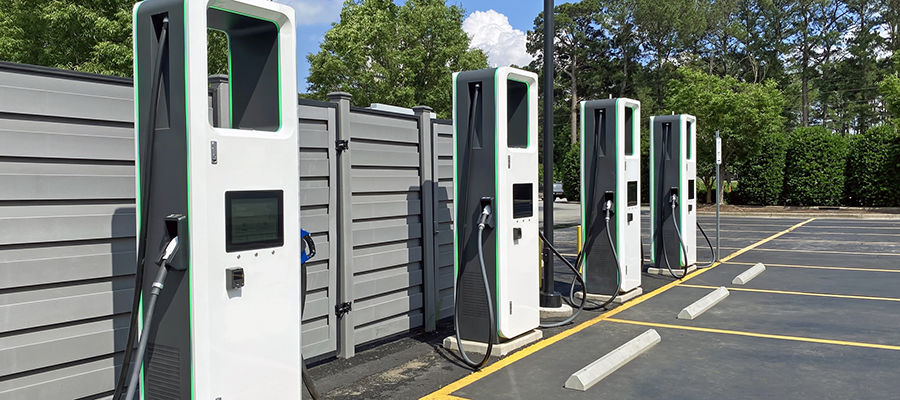 Should I Install EV Charging Stations at My Business?
Share
LinkedIn
Facebook
Email
Copy Link
During the current push to grow the EV infrastructure and put more commercial EVs on the road, small businesses have been focused on how to install EV charging stations to support a  Ford Lightning,  e-Transit, BrightDrop ZEVO, or even a new Freightliner® Medium Duty eM2®.
Working with city planning, utility companies, charging station providers, and commercial real estate owners can make it seem as if an ROI is impossible. But installing charging stations for your vehicles is an essential business expense.
The good news is that you can turn your expense into a profit center by installing chargers for your customers and getting bonus incentives from your local government and state. Of course, planning and implementing a charging infrastructure is a challenge for everyone. Still, with the increase in EV purchases, you can build your customer base and brand loyalty and give your business a second source of income.
Now may be the best time to invest in EVs and charging systems and receive the monetary and marketing benefits that will grow your business. Let's look at several advantages to help you decide if you should install EV charging systems at your business.
Reasons to Install an EV Charging Station
Many companies are discovering the value of installing chargers for public use. Here are some specific reasons this may be beneficial for you.
1. The Image of Environmental Stewardship
Regardless of your reasons behind bringing EV commercial vehicles into your fleet, the public and your customers will see this as an extension of your commitment to environmental stewardship. But do customers care if you are environmentally friendly? A recent survey showed that over 66 percent of consumers are willing to pay more for products and services from environmentally conscious companies.
What does this mean for your business? If you're not people-friendly and dedicated to protecting the environment, you have an ever-shrinking market share, regardless of your business. But by incorporating EVs into your business and providing public-facing chargers, you'll encourage customer loyalty and receive valuable PR from going green.
2. Installing EV Charging Stations Puts You on the Map
Google, Waze, and Apple Maps. For example, when a consumer uses Apple Maps with an EV, according to Apple, "When you get driving directions, Maps can track your vehicle's charge. By analyzing elevation changes along the route and other factors, Maps identifies appropriate charging stations along the way. If you drive until your charge gets too low, you're offered a route to the nearest compatible charging station."
If you install EV charging stations for the public in conjunction with those for your fleet, you can encourage EV owners to spend more time and money with your business. In addition, other popular apps like PlugShare, ChargePoint, ChargeHub, EVgo, and many others will have your business location and chargers on the map. 
3. Installing EV Charging Stations Gets Goodwill for Other Businesses Customers
Adding chargers will drive traffic to the other businesses if you own your property and have additional business tenants. But that can be a positive. You can share the installation cost with businesses around you. Or, If businesses around you don't want to share costs, you can keep the profit from their customers' use of your chargers. Additionally, you can drive revenue through increased sales if you offer complimentary EV chargers to your customers. 
It's relatively easy to create a sustainable and profitable business model by adding public charging stations when installing your fleet charging stations. And, with a little effort, EV charging can provide an additional source of income.
4. Installing EV Charging Stations can Get Extra Incentives from Local, State, and Federal Rebate Programs
If you've investigated purchasing a commercial EV for your business, your research has shown the growing number of incentives available for EVs and charging.
The Alternative Fuel Infrastructure Tax Credit gives businesses a tax credit for electricity-related infrastructure and fueling equipment — even if you use biodiesel. So, you can be eligible for a tax credit of 30% of the cost or 6% in the case of property subject to depreciation, not to exceed $100,000. Permitting and inspection fees are not included in covered expenses. This includes fueling equipment for natural gas, propane, hydrogen, electricity, E85, or diesel fuel blends containing a minimum of 20% biodiesel.
Regarding state incentives, most every state offers rebates or tax credits. States like California and Colorado will fund up to 80 percent of your EV supply equipment, and city incentives add to those numbers. In Illinois, up to $49,000 in rebates are offered, with Massachusetts paying up to 60 percent of hardware costs. 
Then there's the Texas Commission on Environmental Quality's Alternative Fueling Facilities Program, which covers up to 60 percent of eligible costs, and up to a substantial $600,000 on dispensing alternative fuels. So, when installing your business fleet chargers, there are incentives to place as many customer-facing chargers for which you have room.
Check your state for available incentives. It could make installing EV charging stations at your business more straightforward than you thought.
5. Types of Chargers
When considering installation, you have three different types of commercial charging stations.


Level I: This charger is the least expensive and slowest, with charge times of up to 20 hours per car or 4-5 miles of charge per hour. Many homeowners install this.


Level II: These chargers are also used in the home but charge at 240 volts rather than the Level I 120 volts. Although they charge faster, Level 2 charging stations are still relatively slow, with a charging time of up to 8 hours.


Level III: Also known as DC Fast Chargers, Level III charging stations provide an EV with an 80% charge in 30 minutes. It's the most expensive type of charging station to install and often requires your electric utility company to upgrade electrical service. Although more expensive, a Level III charger is the most significant benefit for your customer.
6. Is it Worth it?
Should I install EV charging stations? You're asking the question many small businesses are asking. The Sierra Club says, in their electric vehicle guide, "Big companies, such as Walgreens, Walmart, Kohl's, and Simon Malls, have begun installing EV charging stations and see the business case. Rocky Mountain Institute compiled a guide for the costs of EV charger installation for individuals and businesses and found that the total cost per charger for a Level 3 dual curb-side station is between $20,000 and $50,000 for parts, and labor could cost upwards of $50,000. It is worth remembering that if the installation process requires major electrical upgrades, it could cost you more. Is it financially worth it for small businesses?"
Ultimately, it's something only you can decide. However, the Center for Climate and Energy Solutions said, "business owners need to take into account how much additional business these charging stations can bring in by attracting new and loyal customers eager to patronize businesses that are supporting their own transition to electric mobility."
According to a recent Forbes article, with fast EV charging time of 45 minutes, public charging stations can be used as a way to attract customers and increase dwell time to boost sales. This means more time for customers to spend money.
If you're looking to install consumer-facing EV charging stations while establishing your fleet stations, you'll want to check out this guide. And don't be afraid to let your local media know about it. It will be good PR, whether people use it or not. Everyone enjoys a feel-good story of business supporting the community.
Disclaimer: The views expressed here are solely those of the author in his private capacity and do not in any way represent the views of the Comvoy.com, or any other entity of Work Truck Solutions.
Specially written for COMVOY.com by:
Steve Mitchell
Steve grew up on a farm in East Texas, and his first experience with driving trucks was using the creeper gear as the driver in his great uncle Homer's flatbed Chevy hay hauler. Even though he now lives in Southern California, he's still filled with passion for four wheels. On sunny days, you'll also find him playing as an endurance athlete on the bike in SoCal, but you'll know he's thinking about cars.
Published on: January 13, 2023
NEXT ARTICLE
The Latest Updates on Electric Vehicles for Small Businesses