Spacious Trucks for a Small Mobile Auto Glass Repair Business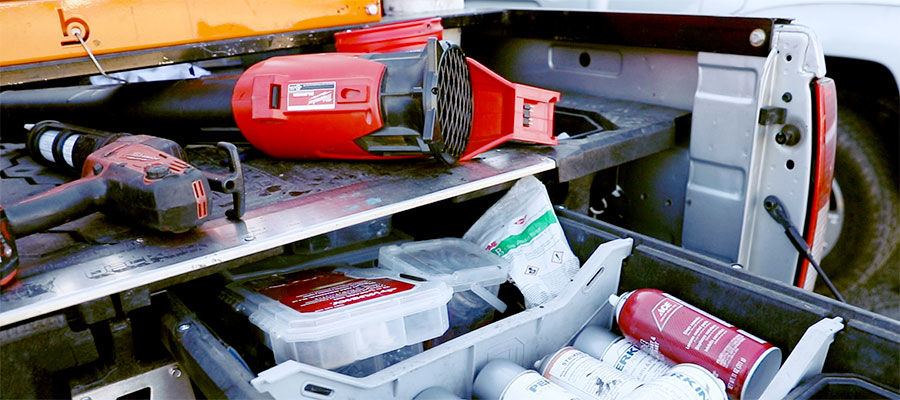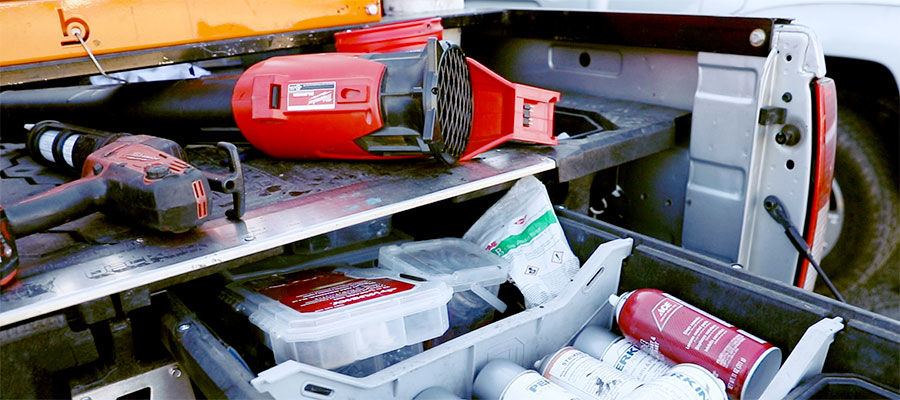 Spacious Trucks for a Small Mobile Auto Glass Repair Business
Share
LinkedIn
Facebook
Email
Copy Link
Perkins Mobile Auto Glass is a family-owned small business. Six full-time technicians repair all kinds of auto glass and windshields. They own four trucks which store the majority of their tools and allow them to transport large pieces of glass to clients. Brad Perkins shows their customized work trucks — and talks about what works for the business and what doesn't.
Equip truck to handle environments, weather, and extensive travelling each day.

In this case, a pickup truck with a standard glass rack and drawer storage for equipment.

Extra cab room for additional technicians brought to the job site.

Strike a balance between power for weight and fuel economy for distances travelled.
Trucks for a Mobile Business
Because the technicians at Perkins Mobile Auto Glass typically travel to their clients, they drive roughly 5,000 miles per month. Brad tells me that this is just from traveling locally within about a 50-mile radius.
"This is the most versatile way to do auto glass that we've found."
-Brad Perkins, Perkins Mobile Auto Glass
With all the glass that they haul, weather conditions are an issue. In winter, technicians navigate snow-covered roads in the Sierra Nevada foothills. Summer brings triple-digit summer temperatures in the valley, so A/C is crucial. And in order to reach everyone they serve, the trucks need to be able to drive off road. Dirt roads are common in both the rural mountain areas and the farmland in the agricultural areas of the valley. "We have to travel to fire suppression crews, or do jobs where tractors are," Brad says.
Outfitting Trucks for Windshield Repair
In the bed of a 2006 Toyota Tacoma truck, Brad installed a standard glass rack. This keeps pieces of glass and replacement windshields upright and secure even on the bumpiest rides. But it also doesn't leave much space in the bed for tools.
To maximize storage space, Brad outfitted the Toyota Tacoma with a Weather Guard pull-out storage drawer. This keeps tools secure and dry. It's also easy to access, since all the tools are stored right underneath the glass rack. The big drawer is divided into smaller compartments for tools like sockets and supplies like urethane windshield adhesive.
"This system is better than a van," Brad says, "because it doesn't start smelling like chemicals and it's easier to work out of. This is the most versatile way to do auto glass that we've found," says Brad. Keeping everything on board the truck makes the technicians "100% self-sufficient," he adds, "and even when we do installations here at the shop, we still work out of our trucks. It's just easier because we're used to working out of the trucks 24/7."
Customized Truck Fleet
All of the trucks at Perkins Mobile Auto Glass are different makes and models since they are bought on an as-needed basis. Brad says that, as a small business, "we run vehicles until they die completely." Having a variety of trucks is helpful since some jobs call for a more compact vehicle. That's why each truck is customized differently. Brad emphasizes that one of the most important considerations for their work trucks is space. Having a truck with an extended bed allows them to load more windshields on the glass rack. Another factor is the extra passenger room that the 4-door cab provides.
"You don't want to retrofit an entire truck then find out that you don't have enough room!" -Brad Perkins, Perkins Mobile Auto Glass
Brad highly recommends having an access cab at least, because the extra room is helpful for bringing multiple technicians to a job site. Although the majority of Perkins Mobile Auto Glass jobs only require 1-2 technicians, there are circumstances where the bigger cab pays off. For example, if an entire fleet of vehicles has hail damage on the windshields, it is much more efficient to send 10 glass pieces and 4 technicians in one truck. "You don't want to retrofit an entire truck then find out that you don't have enough room!" says Brad.
Truck Trade-offs
Brad says that one of the biggest tradeoffs in the Toyota Tacoma is between power and fuel economy. The V6 engine is ideal for transporting heavy glass, but they end up spending more on fuel since they drive so many miles per month.
When I ask Brad what he would change about the setup, he says that he wishes that the vehicle was a little lower. Extra clearance isn't as important as having easy access. When you're in and out all day long as well as working out of the bed of the truck, it would be helpful to be closer to the ground. Another truck in the fleet is lower, but it has a less powerful engine. Brad prefers the v6, emphasizing that this power is ideal since their work trucks are weighed down with heavy pieces of glass and some jobs may require towing another vehicle to the shop.
Perkins Mobile Auto Glass is centered around work trucks. Creative customization has helped Brad and the other technicians get every inch of storage space so they can keep their business on the road.
Published on: August 16, 2019
NEXT ARTICLE
Mobilizing Your Glass Repair Business for a Work Van