Cargo Van: Your Business Safely Stowed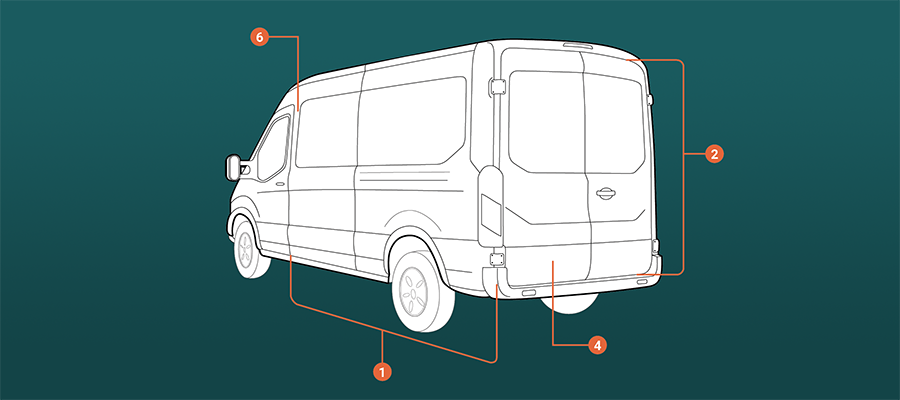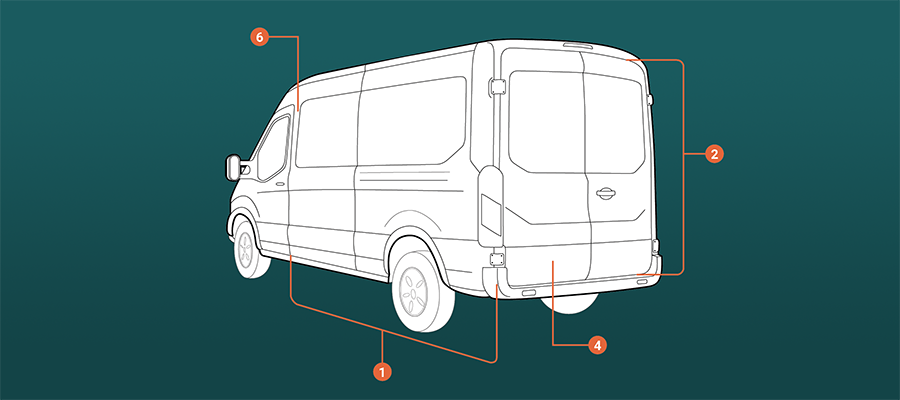 Cargo Van: Your Business Safely Stowed
Share
LinkedIn
Facebook
Email
Copy Link
Cargo vans are the perfect middle ground between a work truck and a box truck. All of the maneuverability a work truck provides with the added security of an enclosed cargo hold for valuable products and materials. Whether you're a tradesman looking to haul tools in an organized space, or a business owner in search of a masterful delivery vehicle for your fleet, the cargo van offers great capacity and customization.
Cargo Floor Length
Cargo van owners know that materials to be transported are the first consideration when purchasing a work van. Cargo vans come in many different lengths depending on what your operation needs. Typical lengths start around 120" in length and will increase alongside the van's wheelbase length.
Roof Height
The cargo van is a broad term used amongst commercial vehicle manufacturers. With so many different configurations of make and model, it's often easy to overlook the roof height of each cargo van. In general terms, manufacturers release their models in varying roof heights to suit the needs of each operation. Available in a low, medium (standard), and high roof option, cargo vans are the top pick for a business owner or fleet manager looking for a diverse vehicle addition to their fleet.
Wheelbase
When considering wheelbase length, it is not only important to note what you'll be hauling in the back of your van, but also the daily routes your crew takes on. A shorter wheelbase in a cargo van will maintain marginally less cargo space but will maneuver city streets and roads far easier than a long wheelbase. On the other hand, a longer wheelbase will take harder turns due to the increased space between axles but will provide more cargo space and a sturdy ride.
Click Here for More Information
Door Options
Cargo vans and their respective manufacturers provide many options in their side and rear door configurations. A few more common types are the sliding, barn door, and flip-up doors and each has its pros and cons. Sliding side doors are optimal for the crew operating in tight spaces and adhering to even tighter deadlines. These doors offer an easy to open vehicle entry point unhampered by parking lots and side streets.
The barn door loads and unloads just as easily as the sliding doors with secure "stay-put" door latches to keep your crew moving and unhindered. Some manufacturers produce doors that can open up to 180 degrees or more, offering room for bulkier items like palletized material.
The flip-up rear door option in a cargo van is likely the easiest setup your crew could ask for. These doors feature a quick-open pull handle to open the cargo bay with ease. Flip-up doors are great for crews looking for low-hassle function amidst a high-capacity loading area.
Storage / Organization
The most notable aspect of the cargo van is the means of customization in storage. From the onset, the cargo van is a blank canvas for the most specific aspects of your work. Fully capable of supporting most any upfit, the interior of a cargo van becomes a mobile staging area when upfitted with a series of steel shelving units, compartments, and tie-downs.
In addition to the solid build of these upfits, most cargo vans support a welded build for the shelving and compartment frames, providing a secure attachment capable of withstanding hard stops and poor road conditions.
Partitions
A cargo van's partition is an absolute must if you're after a safe solution to the possibility of materials shifting throughout the cargo bay. Partition manufacturers and upfitters specify each partition by vehicle and fit them just behind the driver and passenger seats of the cab. Modern partitions can also be ordered with a slight angle, enabling your crew to adjust their driver and passenger seats with limited restrictions. These partitions come in a variety of materials like steel, aluminum, and thermoformed fiberglass to name a few.
Once installed, your cargo van and partition merge to become an impactful and safe delivery system all on its own. Though steel and aluminum options are quite popular among tradesmen of all walks, the thermoformed options provide a further secured system. Not only do the thermoformed partitions provide a barrier between the cab and cargo bay, but they can also fully seal the barrier, protecting your crew against chemical spills and harmful byproducts of loose material.

Perhaps one of the most useful of these options is the partition doorway. The door is installed on the center of the secured, non-angled partition and offers easy access to the cargo bay during transport. Though the doorway proves useful in its accessible nature, the door is installed on a straight partition which may reduce the reclining angle of cab seating. To increase driver comfort, partitions are also available with a slight, rear-facing angle, enabling your crew to adjust their driver and passenger seats with limited restrictions. 
Interior
The sky, or windshield if you prefer, is the limit in the interior of a cargo van. While most models offer a two-seat configuration, a cargo van can seat up to five members of your team at one time. Whether you're looking for a two-seater or capacity for more, manufacturers build their interiors with the notion of "mobile office" in mind. The extensive space between both driver and passenger can support a variety of interior console storage options with added security measures. The focus on function outside of the cargo bay adds utility in taking your cargo van from hauling materials to becoming the premier mobile office.
Published on: January 01, 2019