Landscape Truck Bodies: Standard vs Dovetail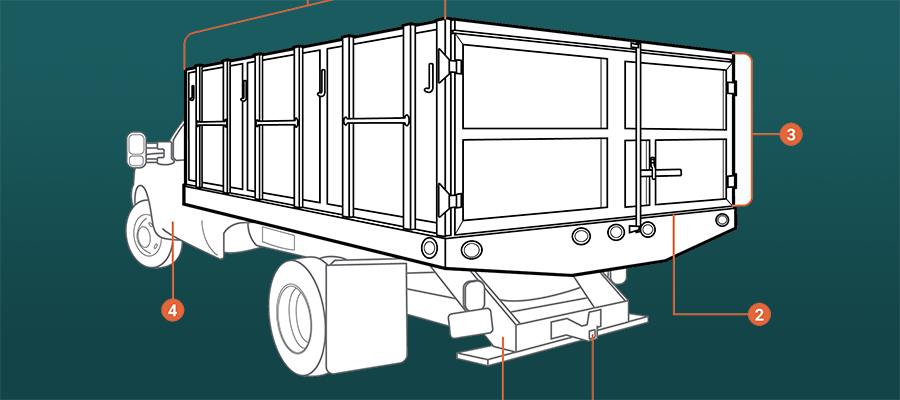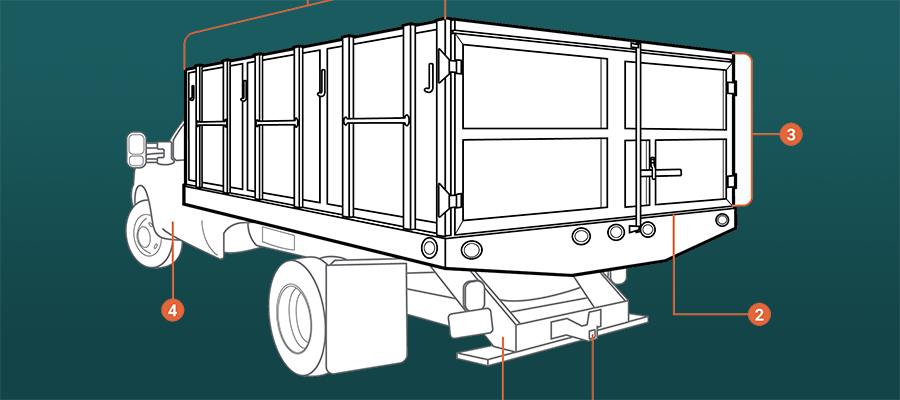 Landscape Truck Bodies: Standard vs Dovetail
Share
LinkedIn
Facebook
Email
Copy Link
The landscape dump truck, in its many configurations, is a commercial vehicle expressly built to haul heavy loads of loose material, such as mulch and loam, while also carrying lawn care equipment, in both standard and dovetail landscape truck models. Featuring a partially-enclosed cargo bay with hinge-mounted doors, and a hydraulic lift to offload loose material, the landscape truck is ideal for any lawn care or landscaping business, either growing or established.
Two landscape bodies differ by their containment of the cargo bay: standard and dovetail.

Body length typically ranges from 8 to 20 feet long, offering larger capacities for equipment like lawnmowers.

Standard truck sides measure to 42 inches but varying heights are available.

Trailer plugs, brake controller, and a hitch are essentials for larger landscape hauls.
Standard vs. Dovetail Landscape Bodies
The key difference to be found between these two landscape truck models is in the containment of the cargo bay. A standard landscape truck is constructed with solid steel or aluminum panels surrounding a solid bed. The rear panels, or doors, hinge either on the side panels or at the base of the platform, to swing open. Standard landscape bodies are not typically used to transport lawn care machinery, such as mowers or compactors.
A dovetail landscape truck serves as an effective equipment transport unit for those who are operating on large commercial sites and have a fair amount of acreage to cover.
The dovetail landscape body is typically built from grated steel with lower side heights; the tallest of which is the rear panel, which serves as both a barrier to stow heavy machinery inside, and as a loading platform to easily ride or push up mowers, compactors, and spreaders.
Body Length
Each landscape body manufacturer supplies specific body lengths for individual applications. Typically ranging from 8' to 20' long, an increase in upfit length provides the end-user with more workable yardage for loose material, as well as a greater capacity for heavy machinery, such as lawnmowers and ride-on fertilizer spreaders.
Material
The landscape body truck, mainly employed in operations that require material off-loading, is often built with a steel or aluminum alloy frame. Both steel and aluminum variants provide the vehicle with a high level of protection against the impact of heavy boulders, as well as the constant scraping of gravel and rip-rap. Additionally, coated steel and aluminum alloys offer a slick surface that lends itself to the care-free removal of fine, loose materials like salt, sand, mulch, loam, and seed. 
Click Here for More Information
Side Height
A landscape body truck provides a variety of different side heights, to ensure that you can stow as much material as necessary in order to fully complete your work. An increase in side-height on the landscape truck provides increased material capacity for the end-user, resulting in more value for each delivery. As a standard, the landscape truck's sides measure in at 42", but both higher and lower side heights are available, as well.
Trailer Brake Controller
Trailer brake controllers are a must-have for any landscaping or lawn care business seeking growth within a competitive industry. And a trailer brake controller does just as its name suggests: it intertwines both the trailer and vehicle braking systems, adding further control and peace of mind for the driver and passengers. This new, added dimension of control greatly reduces the impact of hard stops between the trailer and vehicle, maintaining proper equipment position throughout transport. Not only does this decrease the tension on the towing hitch and trailer, but it also provides an easier ride in general, allowing the end-user to drive confidently, knowing that their hitch is always braking in tune with their vehicle.
Trailer Plug
The day-to-day operations in a landscaping or lawn care business involve high expectations and a quick turnaround from your customers. And with the seamless use of the trailer plug, you can now save even more time when towing your loose materials and heavy equipment. A trailer plug connects trailer lighting to the vehicle's electrical system and allows the user to quickly connect a trailer's responsive braking and signaling lights to the landscape truck.
This, in turn, provides increased visibility to the trailer in traffic, resulting in safer transport and an easy way to remain compliant to state laws and DOT standards.
It is important to note that each trailer and landscape truck will require a specific plug, in order to properly support the connection between the two. Make sure to detail the desired operation of your trailer when selecting an upfit, to ensure that your trailer is both illuminated properly and safely grounded.
Hitch
Though the primary function of a landscape body truck is to transport and deliver yards upon yards of heavy material, the landscape truck is a mainstay in its towing capabilities. Offering support for a series of mounted hitches beneath the rear of the cargo area, a receiver hitch, along with its numerous applications, offers the end-user the ability to tow most trailers fitted with a ball-hitch behind the body. The combination of a durable body for heavy loads with the sheer power to pull an equipment-laden trailer behind it, all work together to make the landscape body truck a truly optimal choice for anyone in the landscaping and lawn care industries.
Published on: January 04, 2019
PREVIOUS ARTICLE
Service and Utility Truck: Convenience and Security in an Organized Package