Tips when Looking for Your Next Flatbed Truck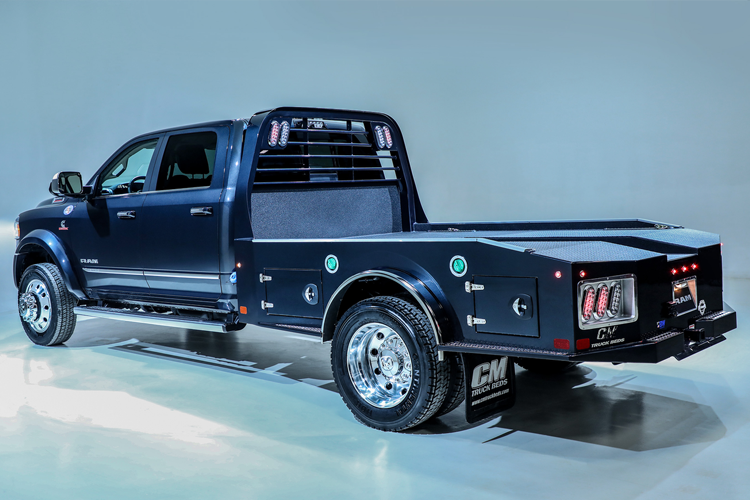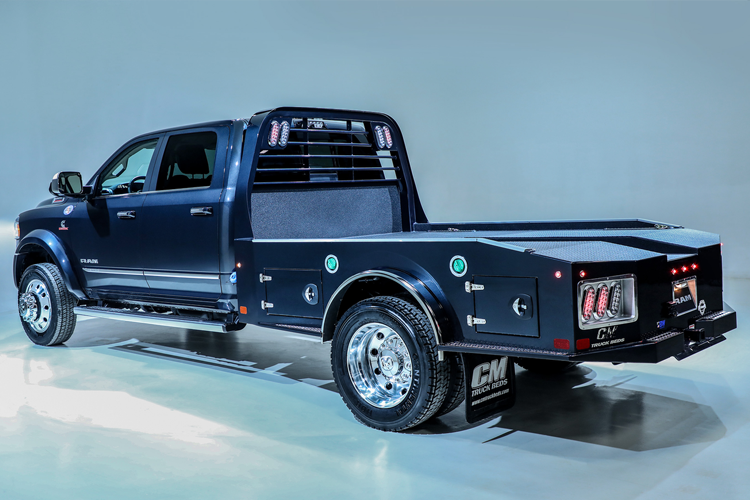 Tips when Looking for Your Next Flatbed Truck
Share
LinkedIn
Facebook
Email
Copy Link
You know the importance of selecting the right tool. You can't do work without the right tools. As essential as side-cutting pliers are, for example, they will never be able to serve as a screwdriver. It's the same when it comes to your flatbed trucks. Although you may have typically used your truck until the wheels fell off, things have changed. As your business has improved over the years, your tools and company have continued to become more specialized. And now you're looking at what you really need for your most crucial specialized device - a cab and chassis flatbed truck.
Table of Contents
Quick Tips From a Business Fleet Manager
Brian, Orange County, California-based fleet manager for CIK Electric, has 8 Utility Bed trucks and 2 Stake Beds in his large truck fleet - all Ram 3500's with the 6.4-liter Hemi. Brian said, "All of them are single tracks, and we use them for delivering equipment. They're optioned with under storage and liftgates. We first didn't think we needed the liftgates, but they've saved a lot of time, prevented damaged equipment, and prevented back injuries." Brian also stressed the importance of knowing your usage and weight rating needs. "There are a lot of 3/4 ton pickups that have been transformed to flatbeds by well-meaning people. You can't haul much with one of those. So I'd say stay away and make sure you're in a 3500 and up.
He recommended staying away from diesel engines unless there was a real need for the towing capacity. "Gas engines tend to cost less in terms of maintenance and downtime. The 6.4-liter Hemi comes with a 4.10 gear, and it pulls every piece of heavy equipment we have.
With regards to upfitting, Brian said, "try to find an HD truck already upfitted from the dealer, if you can. With COVID, upfitters are so backed up that it takes over six months to get your new cab and chassis upfitted and ready to go. So plan accordingly." Whether you're buying a flatbed for the first time or replacing a well-worn workhorse, there are some distinct categories to look at when searching.
Let's start with your truck. Although any Chevy, Ford, or Ram cab and truck chassis will serve your need, in this article we're looking at the 2020 Ram HD line of 3500, 4500, and 5500 cab and chassis work trucks.
The Ram 5500 HD is an excellent example of today's available cab and chassis truck. It's a medium-duty truck that can tow over 30,000 pounds and has a Gross Vehicle Rating of over 90,000 lbs. On top of this powerful platform, you'll want to put aluminum-bodied upfits from a reputable manufacturer like Knapheide, CM Truck Beds, Hillsboro Industries, or Monroe Trucks. Light yet versatile upfits provide you with storage and usage tailored to you but don't weigh down the truck capacity.
Before we get to upfit details, let's start with what to expect in your search for a truck chassis.
What to Expect in Your Search for a Truck Chassis
Compare Chassis Options
When it comes to actual work needs, one thing you'll want to compare is your chassis options.
The 2020 Ram Heavy Duty Chassis Cab has a frame constructed with 97-percent high-strength steel, and you'll see eight separate cross members.
Because the truck manufacturers know you'll be using an upfitter, there's a C-panel design in the frame sections, which creates a flat mounting surface for your upfit. Unlike a 3/4 ton pickup with curved frame members, these flat frame rails give zero component interference and makes upfitting easy and cost-effective.
And to help upfitters even more, the latest cab and chassis models have vehicle System Interface Modules that offer upfitters convenient access to over 70 vehicle inputs/outputs, including lighting and Power Take-Off controls. Ram's Chassis Cab trucks, like Chevy and Ford, come in four industry-standard frame lengths.
The measurements are in inches from the cab to the rear axle (cab to axle), and you'll see and hear this represented as the "(CA)." Four standard frame length options are:
CA 60 - Good for Stake Bed, Service/Utility, Platform, Gooseneck, and Landscape Dump applications up to 9 feet
CA 84 - Good for Stake Bed, Service/Utility, Platform, Gooseneck, and Landscape Dump applications up to 12 feet
CA 108 - Good for Stake Bed, Service/Utility, Platform, Gooseneck, and Landscape Dump applications of up to 16 feet
CA 120 - Good for Stake Bed, Service/Utility, Platform, Gooseneck, and Landscape Dump applications of up to 18 feet
Knapheide, one of the many quality upfit manufacturers you can contact, recommends utilizing an experienced and professional upfitter while considering your next purchase. Discussing your dream upfit with the upfitter will help you choose the correct cab to axle measurement for your purpose.
It's also essential to use an experienced truck equipment upfitter so that your new chassis, body, and equipment are compatible and comply with all federal, state, and local commercial vehicle regulations.
Understand that Powertrains Affect Your Vehicle Performance
When looking at powertrains, the cost of a mistake is high on the decision-making list for commercial vehicles, related to the engine. For example, although diesel engines have more torque, you should be realistic about the amount of towing that you'll need. Acquisition costs are substantially higher for diesel engines up to and over $13,000 more. Gasoline engines will significantly lower your acquisition costs.
Other considerations are the amount of idling time you expect, your need for a PTO, fuel efficiency, and of course, horsepower. With regards to horsepower and torque, gas and diesel will be similar, but every manufacturer will have significant differences in torque between the gas and diesel engine.
For Ram, the standard HD chassis engine is a 6.4-liter HEMI V8 BGE. It puts out 410 horsepower and 429 lb.-ft of torque in the 3500 and has an innovative Fuel Saver Technology cylinder deactivation. Cylinder deactivation will increase your fuel economy on travel between job sites.
Although 6-speed transmission is standard, you can get the Aisin AS66RC six-speed automatic transmission with Power Take-Off (PTO). Fuel Saver Technology functions under light load while in stationary PTO mode to reduce fuel consumption. Ram's HEMI also uses interactive Deceleration Fuel Shut-Off, which stops fuel flow to the cylinders when decelerating, to improve fuel economy.
For heavier work, Ram offers a 360 horsepower 800 lb.-ft of torque 6.7-liter Cummins inline-six turbo-diesel. You can get PTO capability for the left or right side with its Aisin AS69RC electronically controlled six-speed automatic transmission. The Cummins engine's horsepower and torque are currently unmatched in Class 4 and 5 segments.
The differences between gas and diesel, as you can see, are substantial. Be sure you have an idea of the current and future use of your truck so that you can make the best decision.
How Important are Interior Trims?
Since much of your time with the truck is inside, most of today's work trucks will offer you three different trims to choose from. The Tradesman provides a rugged, no-nonsense platform that fills the bill for many contractors and trades. The mid-level SLT model provides some more driver comforts but provides the same value on the job site as the Tradesman.
Moving up, the Laramie provides luxury that has been reserved for luxury cars. Real wood trim, top leather seats, and a 12-inch touchscreen infotainment system ups the price.
Using Your ROI to Determine Safety and Convenience Costs
Today's work trucks receive the same safety and convenience items available in the consumer brand of vehicles. Essential things to consider when looking at your ROI and safety costs are:
cargo-view and surround-view cameras
trailer reverse guidance
blind-spot monitoring and rear cross-traffic alert
automatic emergency braking
parking assist systems
lane departure warning
adaptive cruise controls
Find the Right Upfits for Your Vehicles
As you begin the process of a new truck acquisition, you'll need to decide what upfit is correct for your vehicle. Upfitters like Reading and Scelzi, plus those others already mentioned, have upfits to meet your needs and demands. Any of these upfitters can suggest products best suited for you. Here are a few examples for you to consider:
GOOSENECKS
Gooseneck bodies are one of the most commonly used bodies on the farm and on the construction site. An upfitter can install receiver hitches, bulkheads, storage, and other solutions to make this your workhorse truck. You may have been accustomed to a bumper pull truck, but when compared, goosenecks have more advantages.
Goosenecks are More Versatile
Goosenecks Offer Better Stability
Goosenecks Have a Tighter Turning Radius
FLATBEDS
The flatbed body is a flat platform installed on a hot rolled steel girder understructure. If you're hauling machinery and heavy equipment or materials, then this deck is designed for you. Although the standard platform doesn't have any storage, an upfitter can install optional underbody toolbox and storage systems. When choosing a platform, make sure to consider things tailored to your use:
Reinforced stake pockets with tie-down rails
Steel bulkhead
Powder coat protection
Optional lift gate
Optional hoist
When you choose your flatbed body configuration, you'll generally have the option of platform flooring material. Common choices are:
smooth steel
steel diamond plate
treated and reinforced wood
You'll be challenged to find a more versatile vehicle than the flatbed.
STAKE BEDS
Stake trucks safely move landscaping equipment, roofing supplies, construction equipment, and lumber. They are flatbeds equipped with a set of stake racks. You can custom upfit stake trucks for things like:
Toolboxes
Stake racks of different heights and material
Lift gates
It's essential to consider your current and future needs when searching for your stake bed configuration.
Time to Decide: A Checklist of Considerations for Your Flatbed
To finish up, here's a checklist of considerations when looking for your new flatbed:
What do you need your work truck to do?
Will you need storage capability?
How much horsepower and torque will you need?
How many feet will your frame/bed need to be?
Will an aluminum service body do, or will you need steel?
What kind of additional accessories will you need to add?
Go through this checklist as you plan your purchase or discuss it with your upfitter. You will get a flatbed to meet your current needs and provide efficient and reliable service for you in the years ahead. Or until its wheels fall off.
Tips When Looking for a Flatbed Truck FAQ
How much is a flatbed truck?
Most new flatbed trucks can cost anywhere from $30,000 for medium-duty, baseline trucks, to $85,000 for heavy-duty, fully loaded trucks.
Can anyone drive a flatbed truck?
Anyone with a high school diploma or GED can drive a flatbed truck. Then, all you need is to obtain a commercial driving license (CDL).
Is driving a flatbed truck hard?
Flatbed truck driving is said to be one of the most challenging and dangerous trucking gigs out there. This is due to the size and shapes of the loads that the driver must secure and haul.
What license do you need to drive a flatbed truck?
To drive a flatbed truck, you will need a Class A CDL which is required for any combination of commercial vehicles exceeding a gross vehicle weight rating of 26,000 pounds.
Specially written for COMVOY.com by:
Steve Mitchell
Steve grew up on a farm in East Texas. And his first experience with driving trucks was using the creeper gear as the driver in his great uncle Homer's flat bed Chevy hay hauler. Even though he now lives in Southern California, he's still filled with passion for four wheels. On sunny days, you'll also find him playing as an endurance athlete on the bike in SoCal, but you'll know he's thinking about cars.
Published on: May 24, 2021