Unique History of the Modern Dump Truck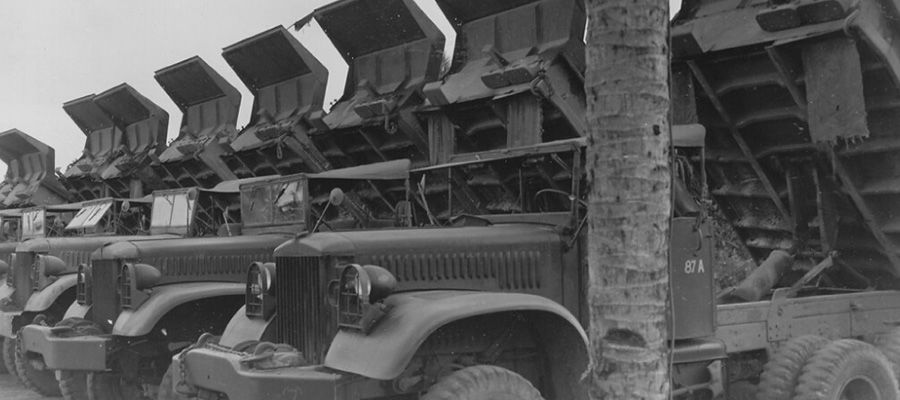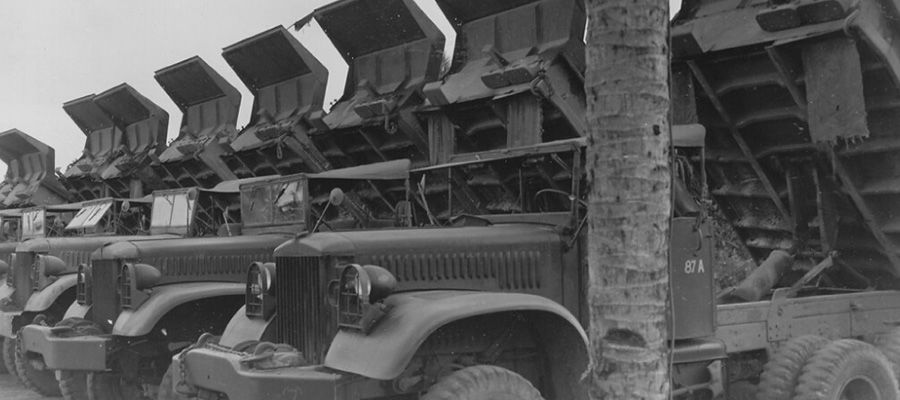 Unique History of the Modern Dump Truck
Share
LinkedIn
Facebook
Email
Copy Link
Dump trucks are one of the most important tools on a construction site, for mining, demolition, waste management and landscaping. They have become a feature of everyday life, but did you know that Dump Trucks have a fascinating history that reaches back to Europe in the 1800s?  
Origins of The Dump Truck 
The foundational design of the dump truck is said to be conceived late 1890s by a British naval engineer, John Isaac Thornycroft. Thornycroft, who went on to start his own manufacturing company, created one of the first steam trucks.
The design was simple, and featured a cart that could attach to the back of every day carriages. When the driver detached the cart, it would tilt back, easily releasing and dumping whatever materials were being moved. 
Through the years, iterative versions were created and in 1896, Thornycroft created a modification that included a 6-cubic-yard tipper body that manually detached from the hitch, created to help manage waste. 
In the States, a similar motorized version was being developed by companies like The Fruehauf Trailer Corporation, Galion Buggy Co. and Lauth-Juergens and others in the early 1900s. Hydraulic beds were soon after introduced by Wood Hoist Co., which revolutionized the automotive industry, and took major strides toward the models of dump trucks we still use today. 
War Efforts
When WWI war efforts increased, demand for dump trucks significantly rose, and American Automotive Manufacturers flourished. August Fruehauf, of Fruehauf Trailer Corporation, won a contract with the military for the use of his semi-trailer. Fruehauf and similar models were used to quickly clear debris, transport materials and weapons and more. 
Later, hydraulic designs were used in WWII which were fitted with a ring mount for an anti-aircraft machine gun. In later years, side boards, seats and cargo canvases were introduced to transform the vehicle to serve as personnel or cargo transportation when it was being used in its original dump function. 
Modern Improvements 
By the mid century, several American manufacturers were making their own variations of the dump truck. In the 1950s, when heavy duty equipment started to emerge, the manufacturer Faun introduced bottom dump trucks that unload their payload by opening gates on the bottom of the bed and could carry an incredible amount of cargo. 
Companies like Komatsu, Euclid, and Tournarockers were engineering trucks that increased payload, increased horsepower and offered features like short wheelbases, tight turning circles, and a high angle turn with a deeply sloped flat body. 
In 1956, President Dwight Eisenhower signed the Interstate Highway Act, the legislation that built our national highway system. With those major construction projects underway, dump truck sales continued to grow, becoming an integral part of developing American industry.
Now, the Dump Truck industry is a high-value segment that plays a vital role in the development and upkeep of communities across the country. The global dump truck market size was estimated at USD 39.97 billion in 2018, and is continuing to grow through the early 2020's. 
Take a Part of a Rich Tradition 
Monroe Truck Equipment has proudly manufactured and upfitted Dump Bodies for over 60 years. If you're expanding your fleet, or looking to invest in your first Dump Truck, reach out to our team today.
This article is paid content written by Scott Hanewall for Monroe Truck Equipment and affiliates. The opinions may not be that of Comvoy.com.
Scott Hanewall
Scott Hanewall is the General Manager of the Commercial Division at Monroe Truck Equipment. Scott partners with dealerships across the country to work toward the same goal of serving the end user customer. Scott joined the Monroe team in 1989 and is backed by years of experience and expertise, giving dealers the tools to sell smarter and with more confidence.
Published on: January 05, 2022